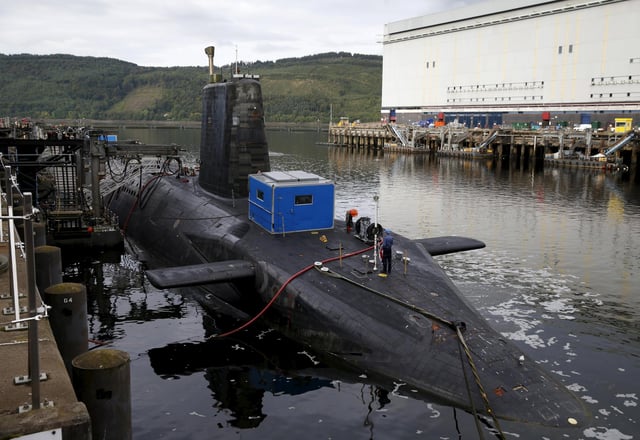 Labour's shadow Foreign Secretary Lisa Nandy said her party were "baffled" by the decision.
Shadow foreign secretary Lisa Nandy claimed ministers were yet to justify the decision which will see the stockpile go from 180 to 260.
Asked on BBC One's Andrew Marr Show, Ms Nandy insisted Labour "won't support" the decision until it can be explained by the Government.
She said: "We are absolutely baffled, as many Tory MPs are as well, about why the Government has chosen this moment – at the point at which the United States has stepped forward to try to deal with nuclear proliferation, signing a new treaty with Russia, at the point we face a growing threat from Iran from nuclear weapons – to do it.
"There may be a reason why they've done this.
"One of the examples mooted has been perhaps they need to have two nuclear deterrents concurrently.
"This is a really serious step that potentially threatens the security of our country.
"So far the Government hasn't given any reason why it's broken with 50 years of convention and gone against the direction of travel that reigning in nuclear weapons is an important part of our safety and security.
"Until they can give an explanation to the House of Commons, we won't support them."
The Government last week published details of its major review of foreign and defence policy, known as the Integrated Review.
It stated the UK could consider deploying its nuclear arsenal against non-nuclear countries if they possess equivalent weapons of mass destruction – including new "emerging technologies".
However, UK Defence Secretary Ben Wallace refused to deny Army Numbers will be cut by up to 10,000.
Asked if he could guarantee to maintain troop numbers, Mr Wallace told Sky's Sophie Ridge: "I am not going to reveal on the media before Parliament, the details of the numbers of men and women of our armed forces.
"The assurance I can give is that what I will be doing is making sure we have an armed forces that is the right size to meet the threat and the right size to meet the government's ambition of having a global Britain that uphold values and support its allies."
Labour's Shadow Defence Secretary John Healey MP called for more support for military numbers, and accused the Government of repeating it's mistakes.
He said: "After weeks of trying to hide their true intentions, the cat is out the bag – the threats Britain faces are increasing but Conservative ministers are cutting the Army yet again.
"Over the last decade the Conservatives have broken their pledges on full-time Forces numbers and run down our Armed Forces.
"Their decisions have been driven by the black hole in their defence budget not by the needs of Britain's defences.
"Further Army cuts could seriously limit our Forces' capacity simultaneously to deploy overseas, support allies and maintain strong national defences and resilience.
"The defence secretary must drop the bombast and explain very simply – how much smaller will the Army be in 2024 than when the Conservatives came to office in 2010?"
If you haven't already, please consider supporting our trusted, fact-checked journalism by taking out a digital subscription.