Labour pledges to create thousands of green jobs at Scottish ports
Sir Keir Starmer's party said its plans will ensure Britain's clean energy future is built in Scotland
Thousands of green manufacturing jobs will be created at Scottish ports under a UK Labour Government, Sir Keir Starmer's party has pledged.
It unveiled plans to pump money into port infrastructure up and down the east coast as part of a commitment to invest £1.8 billion on port upgrades across the UK.
The party said its vision will ensure Britain's clean energy future is built in Scotland. Scottish Labour leader Anas Sarwar said it will "kickstart the economies of Scotland's coastal areas".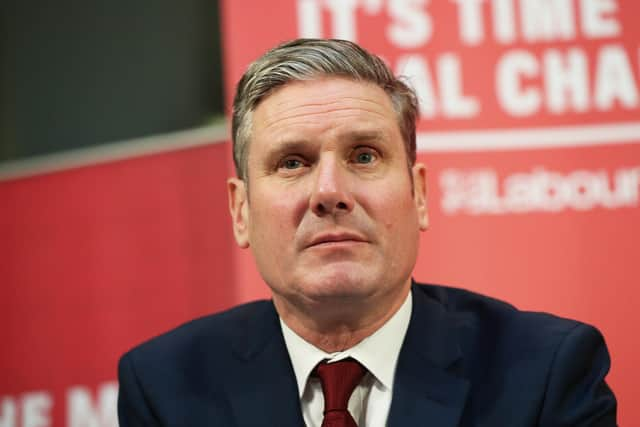 Sir Keir will make a major speech in Edinburgh tomorrow as his party seeks to make Britain "a clean energy superpower".
Labour said investment will be injected into both the regions of Forth and Tay and North East Scotland. The new jobs will be in every part of the supply chain of fixed and floating offshore wind, it said, from construction to maintenance.
The party pledged to "overturn the stagnation and offshoring of Scottish jobs and manufacturing" caused by 13 years of "neglect of the Scottish wind industry" by the Conservatives in Westminster and the SNP in Holyrood.
Industry experts have previously called for greater investment in port infrastructure to help boost the UK's position as a world leader in offshore energy. Labour said individual turbine blades are being produced that are taller than Big Ben, meaning ports need to be bigger, deeper and accommodate the newest technology.
The party has vowed to double the number of jobs in low carbon sectors, supporting 50,000 green energy jobs in Scotland alone. It has also pledged to create Great British Energy, a new, publicly-owned clean energy company, which it says will save £93 billion for UK households over the rest of this decade.
Mr Sarwar said the new jobs will "unlock our green potential". He said: "The relentless focus of the next Labour government will be on creating the high-skill, high-pay green jobs of the future. Where the SNP and the Tories have failed, Labour will deliver 50,000 clean power jobs across our country – including new manufacturing jobs in Scotland's ports.
"These jobs will unlock our green potential and kickstart the economies of Scotland's coastal areas."
Sarah Boyack, the party's net zero spokeswoman, said: "For too long Scotland's potential been held back by the SNP and the Tories' lack of ambition, but Labour's transformative plans will unlock our huge renewables capacity. By investing in the green industries of the future we can protect jobs and deliver a just transition, while making sure we see the investment we need in communities across Scotland.
"No more broken promises, no more lost trust – a Labour government will be single-minded in delivering these jobs for Scotland."
Labour previously announced plans to ban new oil and gas extraction licences in the North Sea, sparking a backlash from trade union leaders.
Earlier this month, Sir Keir said the UK must "seize the next generation of jobs in nuclear, in new nuclear, in renewables across the country" or risk "repeating the mistake that was made when the coal mines were closed down".
He said: "What I will never let happen is a repeat of what happened in coal mining, where an industry came to an end and nobody had planned for the future." He stressed oil and gas "are going to be part of the mix for decades to come, into the 2050s".
Labour said its plans for a zero-carbon power system by 2030 would double onshore and triple offshore wind, particularly benefiting Scotland given its renewable energy assets.
The SNP was contacted for comment.
Comments
 0 comments
Want to join the conversation? Please or to comment on this article.