Labour mayor Andy Burnham says he understands SNP's claims that Rishi Sunak's Government is 'destroying devolution'
The mayor of Greater Manchester says the Scottish Government had failed in its approach to granting stronger powers to local regions
The Labour politician cited his own conflict with the UK Government during the Covid-19 pandemic, when he accused the Tories of "bullying" his region into accepting less than the requested £65 million business support package.
His comments came as First Minister Humza Yousaf hit out at the UK Government and claimed Scotland's deposit return scheme could be scrapped after it failed to grant an Internal Market Act exemption that means glass can be included.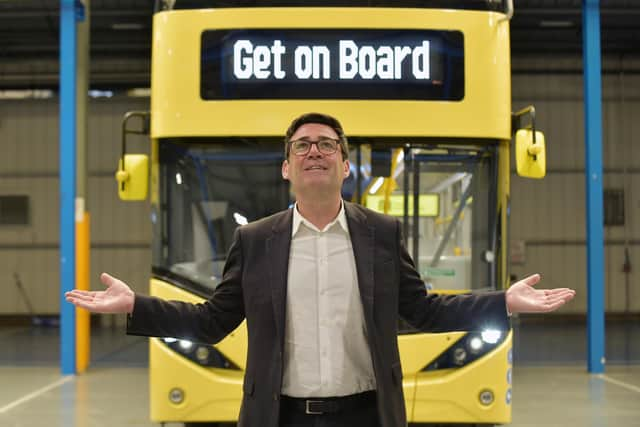 Former MP Mr Burnham, who has been mayor since 2017, said during a visit to Scotland: "I've had my frustrations [with Westminster] and to be honest with you, I feel like I understand the sentiments in Scotland better because we all have our frustrations about the way Westminster treats the rest of the UK, the regions in England, but also Scotland, Wales and Northern Ireland.
"I think people may not realise in Scotland how much we feel the same in the north of England.
"We saw it in the pandemic, the way Greater Manchester was treated by the Westminster Government. They feel they can do things to us that they wouldn't dare do in London and the South East.
"That's what's got to change. Personally, I think we've got to rewire Britain to make it better, and that includes more devolution to us and to Scotland."
As part of his visit, Mr Burnham toured manufacturer Alexander Dennis's Larbert site to see the first 50 new "Bee Network"-branded buses purchased for Greater Manchester.
He said the Scottish Government had failed in its approach to granting stronger powers to local regions.
"I think in Scotland there needs to be more devolution down to the cities and regions, and that's something the SNP hasn't done and I think needs to be done," he said.
He has backed former prime minister Gordon Brown's call for mayors in all major Scottish cities and regions, where the elected official can hold regular meetings with ministers, adding the method "just makes sense".
He said: "If I could pick up the phone to the elected mayors or provost of Edinburgh, Glasgow, Aberdeen or Dundee, we'd all start working more."
It would result in greater collaboration between businesses in Scotland and England without the need for national governments, he added.
Mr Burnham's comments come as the founder of one of the country's most popular beers said Scotland's deposit return scheme was "absolute insanity for consumers".
Dougal Sharp, founder of the Innis and Gunn Brewing Company, described the initiative, for which circular economy minister Lorna Slater is in charge of implementing, as a "bonfire of chaos". He told the BBC: "It's been chaos from the outset and the chaos continues.
"Businesses are reeling with uncertainty, and no one knows where to look next for answers. It's a shambles."
Under plans outlined for Scotland, shoppers would pay a 20p deposit every time they buy a drink in a can or bottle, with that money refunded to them when the empty containers are returned for recycling.
Comments
 0 comments
Want to join the conversation? Please or to comment on this article.