Labour leader Sir Keir Starmer to undergo unconscious bias training
Labour leader Sir Keir Starmer has said the party's entire staff will undergo unconscious bias training as part of his commitment to fight racism and discrimination after years of controversy over claims that anti-semitism has gone unaddressed.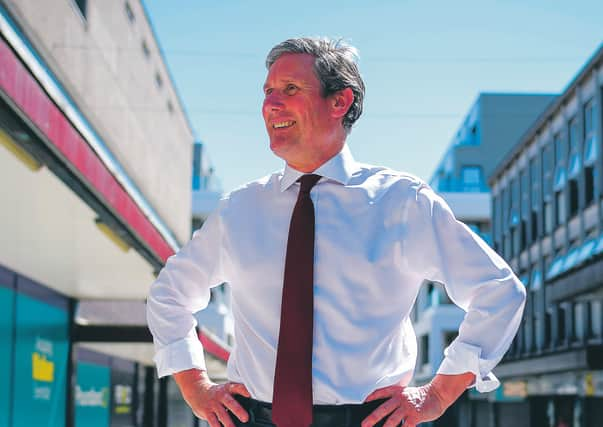 Mr Starmer was confronted by a listener during a radio phone-in over his description of the Black Lives Matter campaign as a "moment" – a comment he said was made in error.
It came as a member of the shadow cabinet apologised over a tweet that suggested the millionaire businessman Richard Desmond, who is Jewish, was "puppet master" to Boris Johnson's government.
Shadow communities secretary Steve Reed faced claims he had used an anti-semitic trope in the now-deleted social media post.
There were calls from campaigners on the left of the Labour Party for Mr Reed to face the same punishment as Rebecca Long-Bailey, who was sacked as shadow education secretary for promoting an interview in which the actress Maxine Peake wrongly claimed US police officers responsible for the death of George Floyd had used restraint techniques passed on by the Israeli secret service.
Mr Reed's tweet said: "Is billionaire former porn-baron Desmond the puppet master for the entire Tory cabinet?"
Yesterday he posted on Twitter: "I want to apologise unreservedly for the language in the tweet I posted on Saturday. It was inappropriate and as soon as I realised my error I deleted it."
Appearing on LBC radio, Mr Starmer was challenged by a caller for having controversially described the Black Lives Matter movement as a "moment". The Labour leader admitted he meant to say that it should be a "defining moment" and "a turning point".
"I didn't mean a fleeting moment," he said. "The reason I said that is because I've spoken to lots of black community leaders in the last few weeks and they have said to me over and over again, 'For heaven's sake, this has got to be a turning point'.
"It's got to be the point at which people actually realise things have got to change.
"In the Labour Party we are introducing [training] for all of our staff and I am going to lead from the top on this and do that training first."
Mr Starmer pledged he would be the first to undergo new unconscious bias training being rolled out across the Labour Party, and would take the two- to three-hour course "as soon as I can book in for it".
He said: "I think everybody should have unconscious bias training, I think it is important. There is always the risk of unconscious bias, and just ­saying, 'Oh well it only applies to other people and not me' is not the right thing to do, so I am going to lead from the front on this and do the training."
Regarding Ms Long-Bailey's sacking, Mr Starmer told LBC: "I'm absolutely clear in my mind that it was the right thing to do, because I do not want the Labour Party and anti-semitism to be in the same sentence ever again."
Comments
 0 comments
Want to join the conversation? Please or to comment on this article.