Kiss singer Gene Simmons labels PMQs 'controlled chaos' in shock visit to Westminster
Rishi Sunak was in the US today, but Prime Minister's Questions (PMQs) still managed to have some star power.
Not Angela Rayner or Oliver Dowden though, who served up familiar arguments. The real drama lay outside, with rumoured sightings of a man not just in a suit, but leather trousers and cowboy boots.
Several MP pics tweeted later, despite the rules about posting from the building. And it was confirmed Gene Simmons, leader singer of Kiss, was in Parliament.
Why you ask? Well, having finished the band's End Of The Road tour, he was a guest of DUP MP Ian Paisley (North Antrim) and was having lunch with him before enjoying a private tour. Obviously.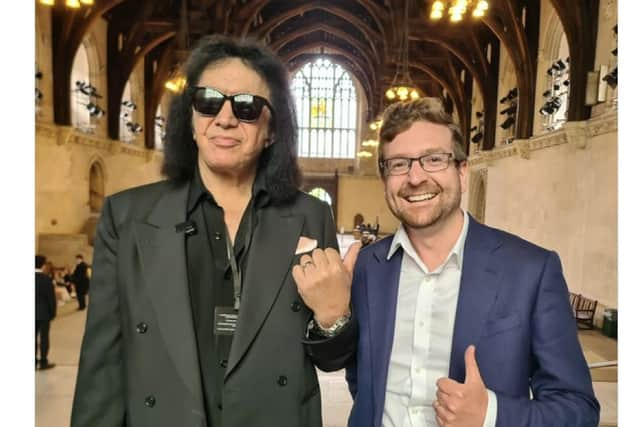 At PMQs, the outfit somehow wasn't top of the bill, with arguments about oil and gas, basic income, and the economy, comments all heard before with more enthusiasm, as if while Rishi Sunak was in Washington, it was MPs who had jet-lag.
There was also a clash over the Covid inquiry, with challenges over wasting taxpayers' money in the process and, more generally, failing to deal with rising cases of fraud in the UK.
Speaking after, the hard rocker praised the debate, presumably because he hadn't been forced to sit through such theatre before.
He said: "What I just saw in there was controlled chaos. It was the clash of wills but respectful – the right honourable so and so, it was fascinating.
"In America, it's like the middle finger is a salute. I think Americans can take a big lesson in civility in how to make democracy actually work and still respect the other side."
Asked if he had visited Parliament before, Simmons said: "Never to Parliament – taught it to my students, but never was physically here and I will tell you, touching a piece of granite that's over 1,000 years old is insane.
"America is so young and has no sense of history, everything over there is just fast, immediate, instant gratification and there's no time to sit there and just gaze, I mean, look where you are – it's insane.
"We're standing on, in terms of democracy, hallowed ground."
Comments
 0 comments
Want to join the conversation? Please or to comment on this article.