Traditionally, a succession of royals and peers would then have paid homage by kneeling before the new king, swearing allegiance and kissing his right hand.
Prince William was the only Royal Duke to kneel and pay homage to King Charles.
Kneeling before the King, he said: "I, William, Prince of Wales, pledge my loyalty to you and faith and truth I will bear unto you, as your liege man of life and limb. So help me God."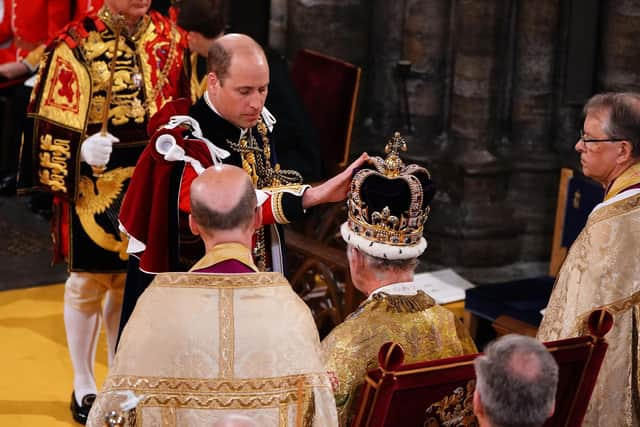 There was a touching moment between the King and Prince of Wales as William paid homage. William appeared to avoid eye contact with his father through much of the homage but then kissed Charles on the cheek and the King was seen to say a few words to his elder son.
Prince Harry, The Duke of Sussex, did not need to pay homage as a blood prince as he is not a working royal. Harry was seen in the television footage watching intently as the archbishop raised St Edward's Crown above his father's head before crowning him.
And when a few minutes later the congregation paid homage to the new monarch, Harry was seen, along with the other royals around him, speaking the words: "God save King Charles. Long live King Charles. May the King live forever."