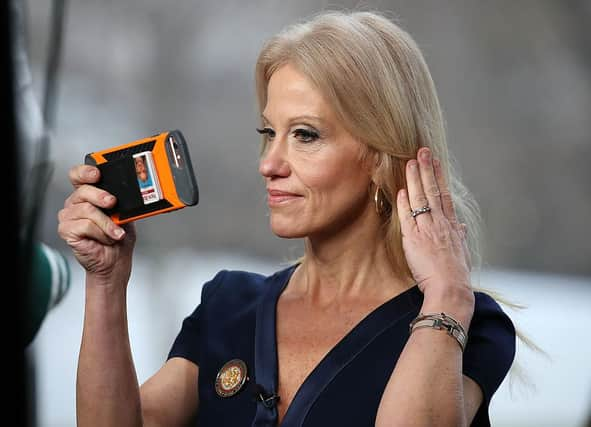 Kellyanne Conway - currently serving as counsellor to president Donald Trump - is to step away from politics.
Her husband George will do the same.
Conway has been counsellor - a high-ranking adviser to the President - since 2016, and announced her standing down just hours after her teenage daughter claimed her mother's job had "ruined" her life.
Conway said in a statement that the decision was "completely" her own choice, and that she was stepping down to give her children "less drama, more mama".
Here's everything you need to know.
Why are Kellyanne and George Conway stepping back?
The announcement of the pair's stepping back from politics comes after months of public feuding with their daughter, Claudia.
A TikTok influencer with a left-leaning, liberal fanbase, Claudia became famous in recent months for her anti-Trump messages, describing the President as "a horrible person" and calling her mother's behaviour "internalised misogyny".
In July, George requested that all media cease communicating with his daughter, to which Claudia tweeted: "You're just mad that I'm finally getting my voice heard."
Claudia also claimed that Kellyanne and George's marriage had "failed", despite no public acknowledgement from her parents of any problems at home.
So could that have had any influence on the Conways' decision?
"[George and I] disagree about plenty but we are united on what matters most: the kids," is the official line from Kellyanne.
"Our four children are teens and tweens starting a new academic year, in middle school and high school, remotely from home for at least a few months," she said in a statement.
"As millions of parents nationwide know, kids 'doing school from home' requires a level of attention and vigilance that is as unusual as these times."
Claudia Conway has since tweeted that she is taking a "mental health break" from social media, as it is becoming "way too much".
She also recently announced she is seeking emancipation, a legal mechanism by which a child is freed from control by their parents before reaching the age at which adulthood is legally recognised.
Before serving as counsellor, Conway was Trump's campaign manager, and is the first woman to have successfully run a US presidential campaign.
Before her work with Trump, she had previously held campaign manager and strategist roles within the Republican Party.
Like much of Trump's administration, Conway is a divisive figure.
In early 2017 she grabbed headlines for the use of the phrase 'alternative facts', an expression she used to defend then White House Press Secretary Sean Spicer's false statements about the attendance of Trump's inauguration.
Conway also appeared to be the inventor of the Bowling Green Massacre, a case of domestic terrorism that never happened but was used as justification for the President's controversial travel and immigration ban from Muslim-majority countries.
What is the Lincoln Project?
Kellyanne is married to attorney George Conway, a partnership which is sure to have thrown up a number of awkward conversations over the years.
That's because George is a founding member of the Lincoln Project, a political group formed in December 2019 with the intention of defeating "President Trump and Trumpism at the ballot box".
George and Kellyanne's politics have publicly differed since 2018, when George first made his opinions on the President known in a New York Times op-ed.
The Lincoln Project officially endorsed Democratic presidential nominee Joe Biden in April 2020.
Trump has made his feelings on George known in the past, calling him a "stone cold LOSER" and "husband from hell" on Twitter - Kellyanne defended Trump in this instance, saying the President is "a counter puncher".