Kate Forbes offered rural affairs role as finance secretary tied to deputy first minister job, key Yousaf ally claims
Humza Yousaf's closest rival in the SNP leadership race was offered a demotion due to the new First Minister's desire to give a key ally both the Deputy First Minister and finance secretary roles.
Neil Gray, who led Mr Yousaf's campaign and was rewarded with a job in his cabinet as wellbeing economy secretary, told the BBC Sunday Show that the new First Minister always wanted another key ally, Shona Robison, to become the new leader's deputy.
This, Mr Gray said, would also see her take on Kate Forbes' finance role as "he wanted the finance elements to be with the deputy first minister", effectively blocking the former finance secretary from her old job.
Ms Forbes went on to be offered the rural affairs secretary role, but turned it down, but rejected the suggestion she had done so to improve her work-life balance.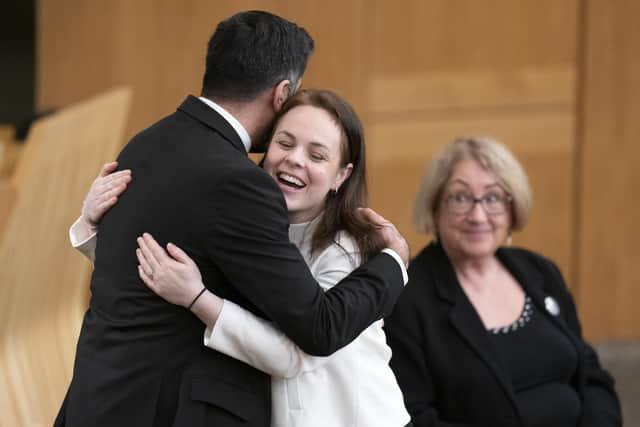 Speaking to Holyrood Sources podcast, she said the finance role was one she "absolutely loved and could do well", and said the rural affairs job would have had challenges due to the planned introduction of highly protected marine areas (HPMAs), which would impact local fishing industries to protect the seabed.
She said: "As a party, we've always been a national party. In other words, we represent fishermen and we represent farmers and we represent big business, small business, medium-sized business and we represent workers.
"So to continue to be the SNP we have to be really careful that we are not neglecting key parts of our economy and key parts of particularly the rural economy.
"Having already expressed some quite considerable concerns about highly protected marine areas during the contest, it would obviously be difficult to then deliver highly-protected marine areas as part of that [rural affairs] brief."
Speaking to BBC Scotland's Sunday Show Mr Gray said Mr Yousaf had a "very positive, warm conversation" with Ms Forbes after his victory last week, stating that it concluded with the now backbencher not being able to take a seat on the cabinet table.
He added: "I'm sorry about that, it doesn't have to be the case that that is forever. Obviously the door is open for Kate to come back when she feels it's right for her to do so."
Mr Gray also rejected the suggestion Ms Robison had lied by claiming Ms Forbes had turned down the rural affairs job for a better work-life balance.
He said: "I don't think it's the case of people not telling the truth, I think there are a number of elements at play in as to the reasons to why the offer was made from Humza to Kate around the rural affairs cabinet secretary, and that would have allowed a better work-life balance which I believe was part of the conversation that was had with her."
The Yousaf ally also rejected the "cynicism" of suggesting the First Minister deliberately offered a job with a key policy that Ms Forbes opposed in order to force her out of government.
"He genuinely wanted Kate to be in his cabinet," Mr Gray said. "The first meeting that he had was with Kate Forbes which Kate later described as being to his credit and was about trying to work with her to bring her into the cabinet.
"Kate is an asset to the SNP, she'll continue to be so."
However, a group of up to 15 MSPs could be set to cause havoc and create chaos from the backbenches of the SNP through the creation of a nationalist 'European Research Group' equivalent, publishing alternative policy papers.
The Sunday Herald reported the group was composed of mostly parliamentary backers of Ms Forbes, but also a handful who publicly endorsed Mr Yousaf.
They also include some of those who voted against the government's gender reforms at Christmas, and those who have been openly critical of the deposit return scheme.
The paper reports the group will attempt to engage with business actively and try to reset the relationship between business and the Scottish Government. Their policy papers may cover issues such as jobs, the economy, and other economic aspects, with them hopefully leading to 'constructive discussions' with ministers.
Such a group of rebels would potentially hamper the SNP leader's attempts to pass controversial legislation on the economy, due to the numbers outnumbering the size of his parliamentary majority. Like the pro-Brexit ERG for the UK Conservatives, it could lead to policy concessions in a bid to keep the rebels onside.
One insider reportedly said: "There is no intention to routinely vote against everything for the sake of it. But we will be able to carefully scrutinise policy positions and add our voice to get better outcomes and we will do that. None of this is being anti anything. We want to make things better.
"The SNP has historically had legendary discipline where people even haven't asked questions. It is that that is changing and I would say that cannot be a bad thing if you get to better policy outcomes."
Pressed on the potential existence of this group, Neil Gray said he did not believe the size of the rebels was as big as suggested.
He said: "I'll work with Kate Forbes and the likes of Ivan McKee and others and see how we can work together around our vision for a wellbeing economy.
"I don't know if the facts are true around 15 rebel MSPs, I'm not sure where that has come from. I'm aware there are people who voted for Kate, who supported Kate who are going to be disappointed.
"Humza's vision for the party, Humza's work going forward now is not just uniting the party and bringing people together as he's attempting to do now, but also to unite the country and bring the country together behind his vision of not just what we can do under devolution, but what we can do to bring about a more socially just, fairer, independent Scotland."
Want to hear more from The Scotsman's politics team? Check out the latest episode of our political podcast, The Steamie.
Comments
 0 comments
Want to join the conversation? Please or to comment on this article.