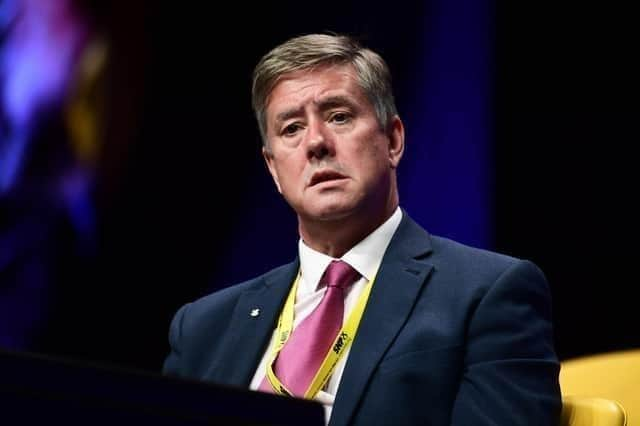 Keith Brown said he trusted the Scottish Prison Service (SPS) to make the best decision and insisted their track record was "exemplary".
Earlier this week, Isla Bryson was found guilty of raping one woman in Clydebank in 2016 and another in Drumchapel in 2019, following a trial at the High Court in Glasgow.
It is understood she is being held at Cornton Vale women's prison in Stirling while awaiting sentence for the crimes, which she committed before she began transitioning to become a woman. She is not being held alongside the jail's general population.
The SPS said it decides where to send transgender prisoners "on an individualised basis, informed by a multi-disciplinary assessment of both risk and need".
Speaking in Holyrood on Wednesday, Conservative MSP Russell Findlay said the Scottish Government "has the power to stop this and to intervene".
He said Mr Brown "can put this right at the stroke of a pen or with one phone call", adding: "So today, will his Government agree to direct the SPS to block this rapist and any others from being sent to a women's prison?"
Mr Brown said every decision was "carried out on the basis of risk", adding: "I trust the SPS to do that." He said: "Look at their track record in dealing with this. It is exemplary. It's ensured the safety of prisoners for many years."
Mr Brown said the SPS "is far more expert at assessing that risk and dealing with it than any of us here in this chamber". He added: "The SPS is a fantastic organisation, which deals with managing risk every day of the week. They have a great track record in relation to trans prisoners, and I have faith in their ability to evolve their policy to continue that track record."
Mr Findlay previously tried to amend the Scottish Government's controversial gender reforms to prevent those charged with serious sexual offences from changing gender until their case has been concluded. However, this was voted down. The legislation itself has since been blocked by the UK Government.
Mr Brown said the presence of a gender recognition certificate would make no difference in this case.
Elsewhere, Mr Findlay called for the SPS to publish its updated policy review on transgender criminals and which prisons are appropriate for them. Mr Brown said he had been informed this would be published in coming months.
Downing Street expressed "concerns" about the possibility Bryson could be held in a women's prison. The Prime Minister's official spokesman said: "This is a case in which the courts are yet to hand down a sentence, so I'm not going to give anything on the specifics. I've seen the reporting and understand the concerns."
Asked about the general policy, the spokesman said: "The UK has a policy which sees the prison service in England and Wales manage transgender prisoners on a case-by-case basis and transgender women must go through a robust risk assessment, which factors in their offending history and anatomy before they can be moved to a women's prison."