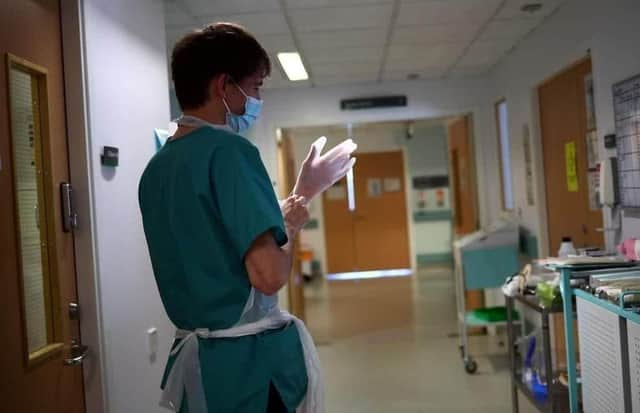 Junior doctors in Scotland could be on strike by the end of the month, it has been warned.
Dr Chris Smith, chairman of the BMA's Scottish junior doctors committee, said doctors are burning out due to unsustainable pressures in the health service.
It comes after members of BMA Scotland voted overwhelmingly to strike, with 97 per cent of those who took part in the ballot backing the walkout. Turnout was 71 per cent.
The union has warned that, should the Scottish Government not put forward a pay deal it felt was credible in negotiations, junior doctors would then begin preparations for a 72-hour walkout at dates to be confirmed.
It claimed pay for junior doctors had been eroded over the past 15 years with them earning 23.5 per cent less than if they were doing the same job in 2008. An increase of 4.5 per cent has been rejected, with junior doctors claiming the offer was a real-terms pay cut.
Michael Matheson, Scotland's Health Secretary, said he would do everything he could to try to avoid strike action in Scotland.
Speaking to BBC Scotland's Sunday Show, Dr Smith said no strike dates had been announced. But pressed on timings, he added: "If a deal isn't forthcoming that we feel is credible enough to put to our members, then theoretically there could be strikes by the end of the month."
Asked if this was the BMA's plan, "No, not at the moment. What we're doing is approaching these negotiations in good faith."
He said: "None of us want to go on strike. Every single doctor who filled in that ballot and posted it back, really would have had to have thought about that. No one goes into healthcare not wanting to do the absolute best for their patients."
Dr Smith said the pay squeeze meant junior doctors are looking elsewhere, "like Australia, New Zealand, Canada, even Ireland, where our skills are compensated at the level that we think we deserve". He said: "We're not asking for a pay rise here. We're just asking to be brought back to where we were 15 years ago. Our work certainly hasn't got a quarter easier. There's certainly not a quarter less of it."
He said being a junior doctor is currently "really difficult", with services "under strain". He said: "What's happening is people are burning out, which means they are leaving the health service – they're going abroad, they're going to the private sector, or they're taking time off sick."
Speaking on the same programme, Mr Matheson said he strike action "would have a very significant impact on the delivery of healthcare services". He said: "Over the course of the last couple of weeks, we have been making progress, and I hope to have further discussions with them in the weeks ahead, because I'm determined to do everything I can to try and avert the possibility of industrial action. Because we saw the level of disruption it causes to the health service when the industrial action was taken in England, and I will do everything I can to try and avoid that here in Scotland."
He said the BMA's pay demand was "simply unaffordable" and would result in a "very significant cut to the health service's budget".