Feminist group For Women Scotland had gone to court challenging the legality of the Gender Representation on Public Boards (GRPB) Act, amid concerns the government had "redefined" the word woman, and had acted beyond its competence by encroaching on reserved powers over equality legislation.
However, in her Court of Session judgement published on Tuesday, Lady Wise ruled the government had acted lawfully under a "specific power" that enabled it to take equal opportunities measures and had not breached the UK Equality Act.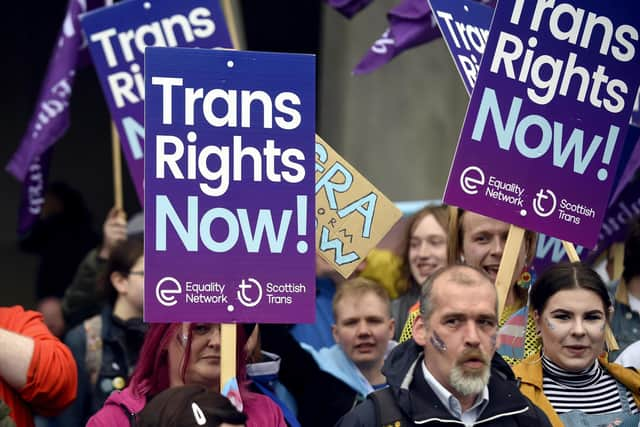 The Scottish Government introduced the GRPB Act in March 2018 to "improve the representation of women on the boards of Scottish public authorities", with the aim of ensuring that at least 50 per cent of non-executive roles are filled by women.
In the new Bill, the definition of woman was changed from "a female of any age" – as it is defined in the Equality Act – to include a "person who has the protected characteristic of gender reassignment".
People who hold a gender recognition certificate (GRC) have legally changed their sex, but For Women Scotland said the Scottish Government had gone further so that "woman" also includes those who do not have a GRC.
In her judgement, Lady Wise said the GRPB Act "was within the legislative competence of the Scottish Parliament and does not offend against the fundamental principle of equality of treatment".
She said: "It should be remembered that the purpose of the legislation is not to make provision in respect of transgender discrimination, it is to take positive actions measures to increase the participation of women
"As EU law confirms that discrimination against transwomen is sex discrimination about which member states can legislate, the 2018 Act does not seem to me to offend the principle of equal treatment and the limited permitted derogation from that principle."
However, Lady Wise said the case did not "form part of the policy debate about transgender rights, a highly contentious policy issue to which this decision cannot properly contribute".
"This litigation is concerned with whether certain statutory provisions were beyond the legislative competence of the Scottish Parliament," she said.
A spokeswoman for For Women Scotland said they were taking legal advice and added: "At a time where the endemic nature of the discrimination and violence women experience on the basis of sex, it will come as shock to many women in Scotland that the Scottish Government can redefine what it means to be a woman in law, so that it is little more than a name on a utilities' bill."
Vic Valentine of Scottish Trans, part of the Equality Network that was also represented in the judicial review, said they were delighted with the result.
"This is an important decision, clearly stating that this equal opportunities measure for women that explicitly includes trans women in line with how they live their lives did not breach the law," she said.
"We hope that any trans woman who has felt unsure about applying for a position on a Scottish public board due to this judicial review will be reassured by this decision."
A message from the Editor:Thank you for reading this article. We're more reliant on your support than ever as the shift in consumer habits brought about by Coronavirus impacts our advertisers.
If you haven't already, please consider supporting our trusted, fact-checked journalism by taking out a digital subscription.