John McLaren: Why the scene-setter Budget neither excites nor satisfies
Jeremy Hunt's Spring Budget was an attempt at a quiet intervention between two hot spots.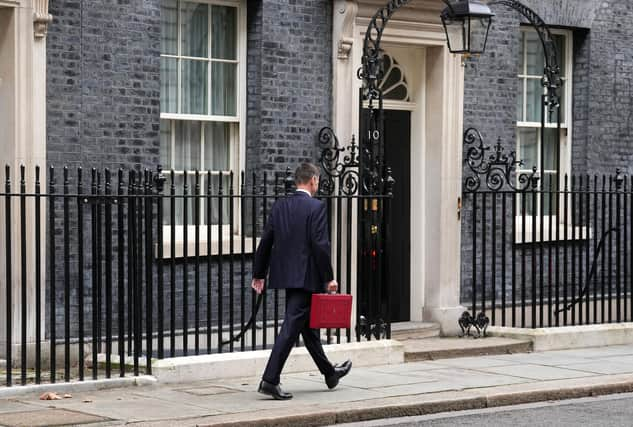 The first being last November's reversal of the disastrous Truss/Kwarteng 'mini Budget' and the second being the coming Winter's Financial Statement where he will look to cut some taxes and spend some more cash, if things go well.
As a result we get tweaks: on energy bills; on Defence spending; on childcare costs. Mainly attempts to keep things on an even keel while helping out a little with the cost of living for families.
That doesn't sound very interesting so instead the Chancellor calls it a 'Budget for Growth'. Indeed there were a number of changes made to help improve private investment and labour supply. However, while there is quite a lot that any government can do to boost economic growth in the longer term there is much less that it can achieve in the short term. This was well illustrated by the Office for Budget Responsibility's forecasts, which show annual growth in GDP averaging under two per cent a year and still below two per cent in the final year, 2028, despite the policy changes.
So this is a downpayment on trying to improve business conditions, although some would say more than offset by the, unchanged, huge hike in the corporation tax rate. Years more of Budgets introducing policies to improve investment, both private and public, planning, and skills will be needed to gradually raise the UK's potential growth rate.
Such minor, or long term, changes leaves the really interesting Budget stuff lying in the hands of the Office for Budget Responsibility and their updated economic and fiscal forecasts. Here the news is better than expected, with: interest rates peaking at a lower level; inflation falling faster; stronger real wage growth; and economic output, GDP, holding up better. Nevertheless the big picture is still pretty grim, just not as grim as it was four months ago.
On GDP, while short run prospects are better, the medium to longer term ones remain poor. The Office for Budget Responsibility expect potential output growth to settle at one and three quarters per cent in the longer term. In other words, while they expect Budget policy measures to marginally improve matters, via increasing the labour supply, this is offset by a weaker path for the amount of capital available per worker, despite the new Budget measures introduced, and other, worsening, changes to labour market participation.
With regards to inflation, while it falls quicker than before it no longer goes into negative territory, although still staying close to zero in the middle of the decade. This remains a highly contentious forecast, that by 2025 the Bank of England will need to worry more about avoiding deflation than about overshooting its two per cent target. Further changes to such a profile can be expected in future Financial Statements.
On the government's fiscal targets, the Office for Budget Responsibility is brutal in its assessment. In terms of its primary fiscal target - for public sector debt to fall in the final year of the forecast - it states that Hunt meets this with the smallest amount of headroom any Chancellor has set aside since the OBR was established in 2010, i.e. next to none. This means that there is no scope for tax cuts or spending rises. It also means the slightest deterioration in any of the key assumptions will lead to the target being missed. So big fiscal challenges await.
Meanwhile, the tax burden - the ratio of taxes to GDP - is still forecast to reach a post-war high of 37.7 per cent by 2027-28, which remains politically challenging, especially for a Tory government.
As there was very little in terms of spending announcements, and most of these (Defence, energy and welfare subsidies) were not in devolved areas, then the Scottish Budget will not be impacted much, although a little extra cash will come through with regard to the new investment zones. With these in mind, if the Levelling Up agenda is still alive it is working to a very long timescale.
Oil and independence seem to be largely devolved from each other these days and the latest UK Budget helped explain why. After the big surge in forecast oil and gas revenues last November, now comes a big correction, in light of lower gas prices. So while offshore revenues are expected to amount to £11 billion in 2022-23, these now fall back steadily to £5.4 billion by 2027-28, although this still more than twice the level seen in 2021-22. The future is anybody's guess.
Scotland's big budget decisions lie closer to home, as in the spending implications of whoever becomes the next First Minister.
The Chancellor will hope for a more stable environment by the end of the year. His wishes may be granted in terms of inflation and possibly even the war in Ukraine. Such short term boosts will be welcome but the big scene changer - a return to decent rates of annual productivity growth - will need to come about before the on-going pressure to raise taxes, in order to properly fund services, is reduced or reversed.
Overall, this was a Budget to neither excite nor satisfy any interest group. But that was not the point. This was a getting through exercise and then waiting to see the lie of the land by the end of the Autumn and only then to make the big political and fiscal decisions.
Comments
 0 comments
Want to join the conversation? Please or to comment on this article.