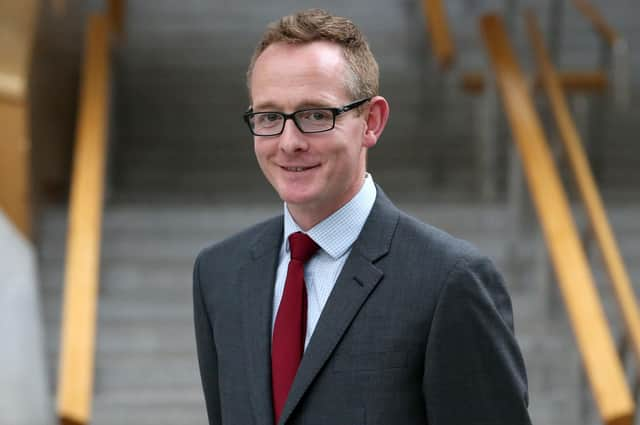 Space companies are taking not so much small steps as giant leaps as we stand on the cusp of the first vertical launch from UK soil.
Britain is a key player in space: latest figures showing the sector grew from £16.5 billion to £17.5 billion, and the number of space organisations here rose from 1,293 to 1,590, creating 1,800 new jobs. The sector now employs 48,800 people and supports at least 126,800 UK jobs across the wider supply chain.
Scotland is showing it has the Right Stuff with sector income up from £141 million to £180 million into 2021, and the number of space organisations here rose from 144 to 183, while employment increased
I am proud of Glasgow companies such as AAC Clyde Space, who are leading the way, with 13 satellites delivered for launch and a further 21 in various states of production in their cleanrooms.
I visited their headquarters in Finnieston. There the air once rang with the sound of riveters' hammers when the Clyde was the world epicentre of shipbuilding. Today, white-coated engineers quietly pore over satellites – whose high-tech sensors help communication; watch over the weather; monitor soil health; gather data essential to our fight against climate change… all making our lives better.
Glasgow alone produces more of these small-but-mighty satellites, often no bigger than a plain loaf, than anywhere else in Europe. Spire Global, a Californian firm, told me they chose to locate a manufacturing facility in Glasgow because of the quality of students emerging from our universities.
And the countdown to Britain's first vertical rocket launch is on. I travelled on a very stormy day late last year to the northernmost tip of Shetland's Unst to see the amazing progress at the SaxaVord Spaceport.
What was once an RAF radar outpost is now very much looking like the gateway to the stars for small satellites as giant concrete launch pads and essential launch equipment are already on site.
SaxaVord is on track to host its first vertical launch this year with German firm Rocket Factory Augsburg. Its programme of launches also includes a partnership with Lockheed Martin to host the UK Space Agency's Pathfinder programme, worth £23.5 million from UK Government funding.
Scotland is blessed with a geographical position on the globe that makes us an ideal launch point for satellites going into what's called low-Earth orbit. So on the Mhoine peninsula, Space Hub Sutherland is also gearing up for vertical launch of the Orbex Prime rocket, designed and manufactured in Forres on the Moray coast.
At Prestwick, the airport that was once the route to the Costas is now looking to the cosmos – satellite company Mangata Networks is creating around 600 high-skilled jobs at a research and development hub there.
Funding was as visionary as the project itself, anchored by £10m from the UK Government's contribution to the Ayrshire Growth Deal Space and Aerospace Programme. The Growth Deals are a key part of our Levelling Up agenda which is transforming lives and communities right across Scotland. And Prestwick is another shining example of Scotland's two governments – one at Holyrood and the other in Westminster – working together, as Scottish Enterprise provided £54.5m of finance for Mangata.
It's clear Scotland is already a front-runner in the modern space race where more and more firms see the value of small satellites and the wealth of data they can provide.
The UK Government's vision is for Britain to be at the forefront of small satellite design, manufacture and launch. The harvesting of their data, already making available £50m to grow the new UK markets for small satellite launch and what's called sub-orbital spaceflight.
Growing our capabilities in the world of commercial space activity will generate highly skilled, well-paid jobs and local opportunities around the UK spaceports and right across the United Kingdom.
Space has long held a fascination, but today's young men and women have fantastic opportunities to become involved in cutting-edge technology here and now.
The UK Government is determined to make sure that for them, the sky is not the limit.