Joe Biden urges return to power sharing in Northern Ireland as he hails 25 years of peace
Joe Biden has called on Northern Ireland parties to return to power sharing in Stormont soon, in a speech hailing 25 years of peace, with the White House also insisting that the US president is not "anti-British."
The US President called for the restoration of powersharing at Stormont saying the "dividends of peace are all around us", as he addressed a gathering at the Ulster University campus in Belfast.
He added that the future of Northern Ireland was "America's future" as he hailed the economic opportunities for the region.
Biden spoke of how compassion "had changed how this entire region sees itself", as he called for a recommittal to peace in Northern Ireland.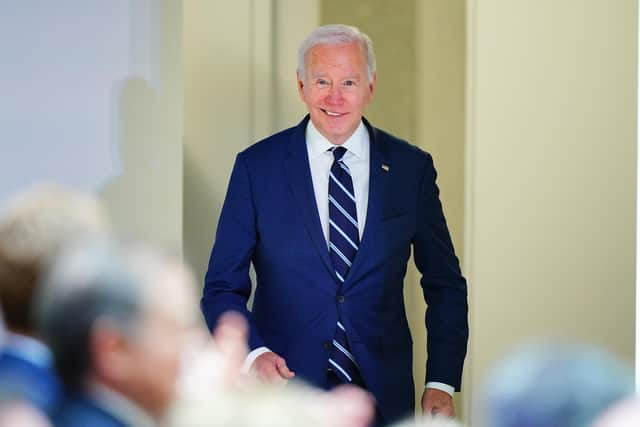 The White House also rejected an assertion that US President Joe Biden is "anti-British".
In a briefing to journalists, Amanda Sloat, senior director for Europe at the US National Security Council, said: "It's simply untrue – the fact that the president is going to be engaging for the third time in three months, and then again next month and then again in June, with the Prime Minister of the UK shows how close our co-operation is with the UK.
"And before that, the president had numerous calls and meeting with Prime Minister Johnson, and Prime Minister Truss as well.
"President Biden obviously is a very proud Irish-American, he is proud of those Irish roots, but he is also a strong supporter of our bilateral partnership with the UK, and not only on a bilateral basis within NATO, the G7, on the UN Security Council, and we truly are working in lockstep with the British Government on all of the pressing global challenges that our countries are facing."
Addressing those at the Ulster University President Biden said: "This very campus is situated at an intersection where conflict and bloodshed once held a terrible sway," he said.
"The idea to have a glass building here when I was here in '91 was highly unlikely.
"Where barbed wire once sliced up the city, today we find a cathedral of learning built of glass and let the light shine in and out.
"This has a profound impact for someone who has come back to see it.
"Its an incredible testament to the power and the possibilities of peace."
He also called on the Stormont power sharing to resume saying: "I believe the democratic institution established in the Good Friday Agreement remain critical to the future of Northern Ireland.
"It's a decision for you to make, not for me to make."
But he said "an effective, devolved government that reflects the people of Northern Ireland and is accountable to them, a government that works to find ways through hard problems together" would help draw "even greater opportunity" to the region.
"I hope the assembly and the executive will soon be restored," he said.
"That's a judgment for you to make, not me.
"I hope it happens, along with the institutions that help facilitate north-south and east-west relations, all of which are vital pieces of the Good Friday Agreement."
He added: "Your history is our history, but even more important your future is America's future," the US president said.
"Today's Belfast is the beating heart of Northern Ireland and is poised to drive unprecedented economic opportunity and investment, from communities across the UK, across Ireland, across the United States. The simple truth is that peace and economic opportunity go together.
"The 25 years since the Good Friday Agreement, Northern Ireland's gross domestic product has literally doubled."
The president said that figure would only improve if "things continue to move in the right direction".
Reiterating calls for peace he added: "This place is transformed by peace, made technicolour by peace, made whole by peace.
"So today, I come to Belfast to pledge for all the people of Northern Ireland, the United States of America will continue to be your partner in building the future the young people of our world deserve.
"So let's celebrate 25 extraordinary years by recommitting to renewal, repair, by making this exceptional peace a birth right of every child in Northern Ireland for all the days to come.
"That is what we should be doing, God willing you'll be able to do it. Thank you all for listening and may God bring you the peace we need."
Comments
 0 comments
Want to join the conversation? Please or to comment on this article.