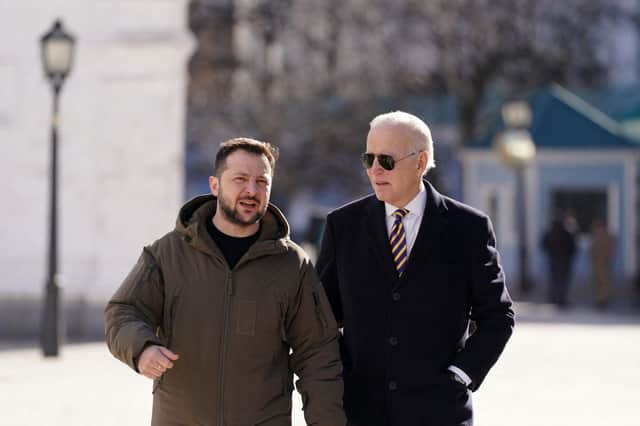 Joe Biden Ukraine visit: 11 pictures of President Biden meeting Volodymyr Zelensky in Kyiv visit
Joe Biden has made an unannounced visit to Ukraine to meet President Volodymyr Zelensky – a gesture of solidarity days before the one-year anniversary of Russia's invasion of the country.
The Ukraine visit comes at a crucial moment in the war as Mr Biden looks to keep allies unified in their support for Ukraine as the war is expected to intensify – with both sides preparing for spring offensives.
Mr Zelensky is pressing allies to speed up delivery of pledged weapon systems and is calling on the West to deliver fighter jets to Ukraine — something Mr Biden to date has declined to do.
Mr Biden's mission with his visit to Kyiv — and then Warsaw — is to underscore that the United States is prepared to stick with Ukraine "as long as it takes" to repel Russian forces even as public opinion polling suggests that US and allied support for providing weaponry and direct economic assistance has started to soften.