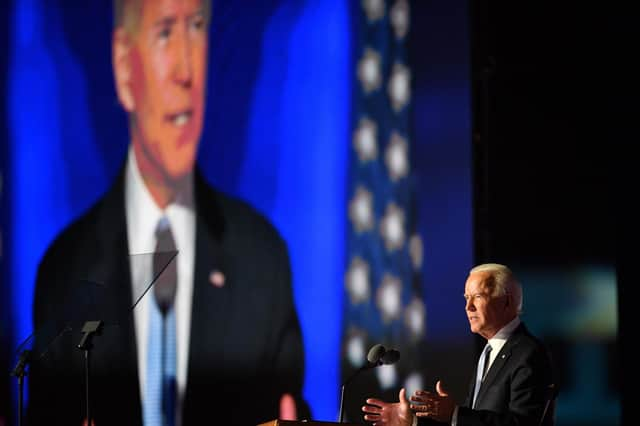 US President-Elect Joe Biden delivers remarks in Wilmington, Delaware, on November 7, 2020, after being declared the winner of the presidential election. Picture: AFP via Getty Images
Mr Trump's refusal to acknowledge President-Elect Joe Biden's win should have come as no surprise to even the most casual observer. In his victory speech, Mr Biden was forced to abandon the conventional opening remarks in which he would have thanked his predecessor for graciously conceding. Instead, he thanked the American people for giving him the most votes cast for a president in US history before embarking on an impassioned vow to unify his divided country.
Mr Biden said: "It's time to put away the harsh rhetoric. To lower the temperature. To see each other again. To listen to each other again. To make progress, we must stop treating our opponents as our enemy. We are not enemies. We are Americans. The Bible tells us that to everything there is a season – a time to build, a time to reap, a time to sow. And a time to heal. This is the time to heal in America."
Noble though this sentiment is, there can be no overstating the scale of the task that now faces him, Vice-President Elect Kamala Harris and their administration. Mr Trump took more than 70 million votes, the second-highest tally in history. More than 70 million Americans voted in favour of giving a president who embodies the politics of division four more years in the White House.
But the election of Mr Biden is a start on a hopeful journey towards his vision of a more united United States and a more united world.
He told his supporters: "Let this grim era of demonisation in America begin to end – here and now. The refusal of Democrats and Republicans to cooperate with one another is not due to some mysterious force beyond our control. It's a decision. It's a choice we make. And if we can decide not to cooperate, then we can decide to cooperate."
Mr Trump, it seems, continues to choose not to cooperate. But for everyone else, Mr Biden's words should echo in legislatures around the world.
"Let us be the nation that we know we can be. A nation united. A nation strengthened. A nation healed."