Follow all the updates in our dedicated live blog.
A message from the Editor:
Thank you for reading this article. We're more reliant on your support than ever as the shift in consumer habits brought about by coronavirus impacts our advertisers.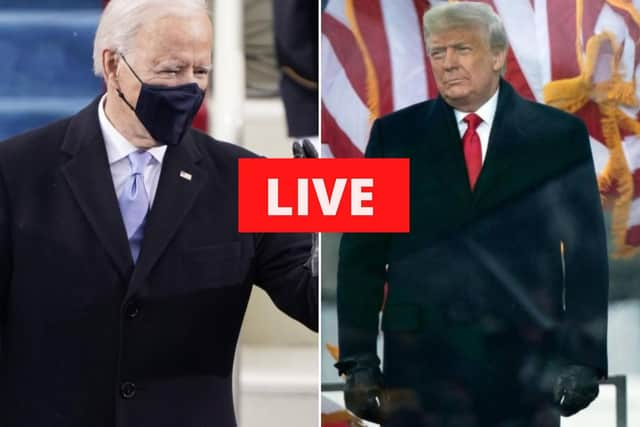 If you haven't already, please consider supporting our trusted, fact-checked journalism by taking out a digital subscription.
Joe Biden inauguration LIVE: Latest updates as 46th president of United States is sworn in
Show new updates
US president Biden pledges to unite nation and rebuild international alliances
Joe Biden pledged to rebuild international alliances as he was sworn in as the 46th president of the United States in what he called a day of "renewal" for the bitterly divided nation.
Boris Johnson welcomed his succession from Donald Trump as a "step forward" from a "bumpy period" and an opportunity to collaborate on climate change and the coronavirus pandemic, two crises the Republican played down.
Mr Biden declared "democracy has prevailed" as he took over the White House after four years of a Republican presidency that tested the nation's tenets as well as international relations.
"This is America's day. This is democracy's day. A day in history and hope, of renewal and resolve," the Democrat said.
But he noted that "the world is watching" as he took the oath of office in Capitol Hill, the scene of a violent insurrection from Trump loyalists just two weeks ago.
"Here's my message to those beyond our borders. America has been tested and we've come out stronger for it. We will repair our alliances and engage with the world once again, not to meet yesterday's challenges but today's and tomorrow's challenges," Mr Biden said.
"And will lead not merely by example of our power but by the power of our example. We will be a strong and trusted partner for peace, progress and security."
At 78, Mr Biden became the oldest president to take office but in a more significant moment of history making, Kamala Harris was sworn in as vice president.
Queen sends private message to Joe Biden
The Queen sent a private message to US president Joe Biden before he was sworn into office, Buckingham Palace has said.
A palace spokesman said: "Her Majesty sent a private message to President Biden ahead of the inauguration."
In the final hours of his presidency Trump pardoned 73 people, including his former adviser Steve Bannon
Biden compares pandemic toll to that of World War Two
In his inaugural address President Biden said that Covid-19 had "taken as many lives in one year as America lost in all of World War Two".
Boris Johnson on Joe Biden
Asked if he thought US president Joe Biden is "woke," Prime Minister Boris Johnson told the media: "I can't comment on that. What I know is that he's a firm believer in the transatlantic alliance and that's a great thing.
"And a believer in a lot of the things that we want to achieve together."
Mr Johnson said: "There's nothing wrong with being woke," adding: "I put myself in the category of people who believe that it's important to stick up for your history, your traditions and your values, the things you believe in."
Boris Johnson: Joe Biden a 'step forward' for the US
Boris Johnson said the inauguration of Joe Biden was a "step forward" for the US after a "bumpy period".
Mr Johnson, who had a close but sometimes difficult relationship with Donald Trump, said it was a "big moment" for the UK-US relationship.
The Prime Minister told reporters: "When you look at the issues that unite me and Joe Biden, the UK and the United States right now, there's a fantastic joint common agenda.
"I really congratulate Joe and Kamala Harris on their achievement, on their inauguration today.
"It's a fantastic thing for America, a step forward for the country that has been through a bumpy period.
"And for us and America it's a big moment."
The Vatican publishes Pope Francis' message to President Joe Biden
"Under your leadership, may the American people continue to draw strength from the lofty political, ethical and religious values that have inspired the nation since its founding.
"At a time when the grave crises facing our human family call for farsighted and united responses, I pray that your decisions will be guided by a concern for building a society marked by authentic justice and freedom, together with unfailing respect for the rights and dignity of every person, especially the poor, the vulnerable and those who have no voice.
"I likewise ask God, the source of all wisdom and truth, to guide your efforts to foster understanding, reconciliation and peace within the United States and among the nations of the world in order to advance the universal common good.
"With these sentiments, I willingly invoke upon you and your family and the beloved American people an abundance of blessings."
Joe Biden updates his Twitter profile: President of the United States, husband to @DrBiden, proud father & grandfather. Ready to build back better for all Americans.