Joe Biden inauguration 2021: Readers react to Donald Trump's decision to skip ceremony
Our readers have been reacting to Donald Trump's flat out refusal to attend the inauguration of Joe Biden today - and they aren't holding back.
Before his Twitter account was suspended, former US President Donald Trump was very forthright in admitting that he would refuse to attend the inauguration of his popular successor Joe Biden – which is due to take place today.
Mr Trump's refusal to take part sees him become the first President since Richard Nixon to not attend his successor's inauguration, with his decision most definitely pushing back on the democratic norm seen in United States of America.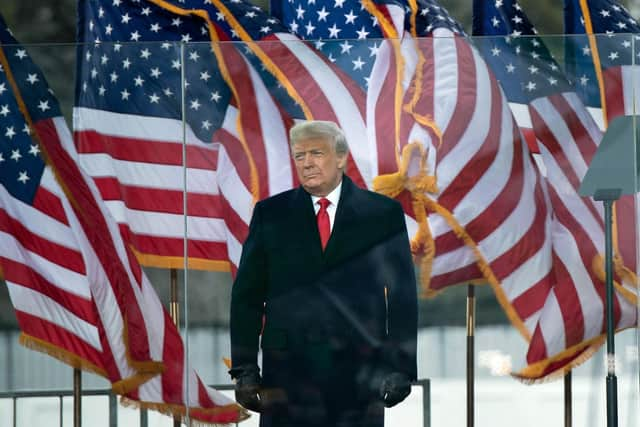 'He's a small minded petty person with no class'
'His behaviour and facial grimaces are very tiresome. Mr. Biden deserves an honourable inauguration' said Rayna Taylor, which were comments echoed by Sophie Douglas who added Mr Trump was: 'Disgraceful and childish. He's a highly dislikeable human being', branding his decision to not attend as 'insulting'.
Cindy Northrup was also not in slightest bit surprised at Mr Trump's lack of attendance, adding: 'It is pretty much true to character', she said 'he has acted like a child for the past four years - why change now?'.
Cindy's comment was also backed up by Terry Cobb, who said the 45th President has 'no class at all', adding 'all he would do is stink up the place.'
Cassie Shearon McClanahan doesn't mind that the outgoing Commander-in-Chief won't be attending, saying: 'No one wanted him there any way. Good riddance.'
Jolee Isham was another to liken his behaviour to 'a spoiled child who didn't get his way', adding 'of course he's going to take his toys and go home.'
Shirley Harford doesn't think incoming President Biden will lose any sleep over it, saying: 'Biden is quite content with him staying at home and he sure doesn't need a tour of the White House.'. Brian Shepherd admitted it was 'a pity Trump hadn't boycotted the inauguration of the last president.'
Dave Worfel felt the decision shouldn't have even be his to make, commenting: 'He shouldn't be at the inauguration. He also shouldn't be allowed to use Air Force One to go back to Florida.'
The outgoing Mr Trump, however, did have some support in the comments section, with Janet Majuta saying she understands why he would not attend, what she called, 'a fraudulent inauguration.'
Mike Lanzi said: 'Good for him. I'd want nothing to do with the new President either.'
Sheila Wallace was also strong in her defence of the decision – and Trump himself.
'74 million American citizens don't believe the election was honest' she claimed, adding 'Trump has accomplished many record setting accomplishments for American citizens.'
So, strong words from both sides as President Biden prepares to enter the White House today.
However, no matter your thoughts or opinions on the matter – or Trump's reign as a whole - Donald Trump's time as US President is at an end.
A message from the Editor:
Thank you for reading this article. We're more reliant on your support than ever as the shift in consumer habits brought about by Coronavirus impacts our advertisers.
If you haven't already, please consider supporting our trusted, fact-checked journalism by taking out a digital subscription.