Joanna Cherry's SNP branch renting out club room to The Stand for Fringe events
The fierce critic of the party's leadership complained about a show she was involved in being cancelled by the comedy club.
Joanna Cherry's SNP branch is renting out space to The Stand to be used as a Fringe venue despite the cancellation of an on-stage event she was due to appear at as part the comedy club's festival programme.
The Edinburgh SNP Club is used by The Stand, co-founded by SNP MP Tommy Sheppard, during The Fringe as a smaller venue. It is not known how much the branch is receiving in rent from the comedy club.
Comedians due to appear on stage include Gavin Webster and his show "You Cannot Say Nowt These Days".
Ms Cherry, the SNP MP for Edinburgh South West, said she had been "no-platformed" in a "Stasi-like" manner by staff after her In Conversation With . . . discussion event at the New Town Theatre was cancelled.
The club said "key operational staff" had raised concerns about the MP's views and made clear they did not want to work at the event. The MP indicated she is keeping her options open around taking legal action over the cancellation of the show.
"This is an affront to free speech, and it's also discriminatory," she told STV. "Lesbian feminists and women such as myself are being prevented from speaking in public about our views.
"This is the kind of thing that went on in East Germany under the Stasi. I don't expect it in a democratic country like Scotland, particularly not in Edinburgh, the home of the Enlightenment, and also in my case at the Edinburgh Festival Fringe, which is supposed to be a venue for all, and eclectic and accommodating all sorts of different artistic freedoms."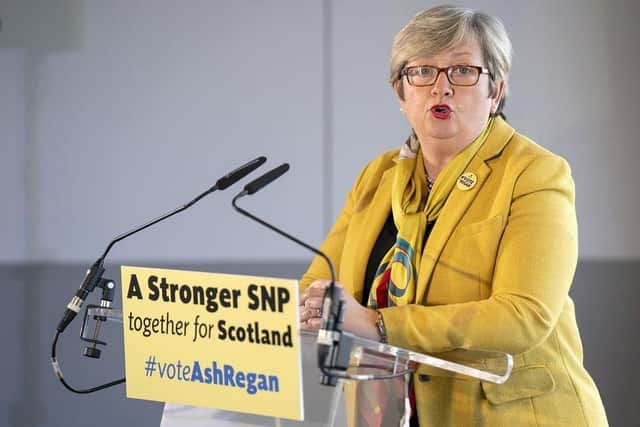 The Edinburgh Central SNP branch executive said: "Given potential legal implications of this issue, we will not be commenting on the matter."
Humza Yousaf said on Wednesday that he had not spoken to Ms Cherry about the situation. He said: "I really do hope that Joanna's show can go ahead. I hope there's a way there can be a compromise found in terms of Joanna's show going ahead.
"Joanna and I have a difference on a number of issues, including for example the GRR [Gender Recognition Reform] Bill that was passed by the Scottish Parliament. I do think it's important that those views are heard."
He said it was not the First Minister's role to "tell comedy clubs and other venues what shows they must and must not put on".
Ms Cherry and The Stand were contacted for comment.
Want to hear more from The Scotsman's politics team? Check out the latest episode of our political podcast, The Steamie.
Comments
 0 comments
Want to join the conversation? Please or to comment on this article.