Joanna Cherry dismisses rift with Nicola Sturgeon as 'idle speculation'
Joanna Cherry has denied a rift with Nicola Sturgeon and says standing to be selected as candidate for the Edinburgh Central seat in next year's Holyrood elections is not disloyal to the SNP's leadership.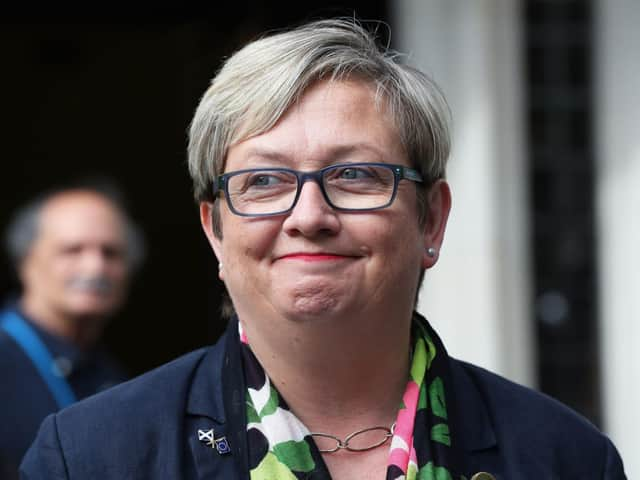 Joanna Cherry has dismissed speculation of a rift between her and Nicola Sturgeon.
Despite conjecture that the pair do not speak and that the SNP MP sees herself as a successor to Ms Sturgeon, Ms Cherry said she did not "want to replace Nicola", but wants "to get to know her better."
She also said that she wants to be a candidate in next year's Scottish Parliament elections as the "focus" for independence is at Holyrood, and she "wants to be part of it".
"Whenever I'm in other parts of the UK I'm told how much they admire Nicola and wish they could have someone as good as her in English politics. I'm proud of her and of how well she's represented the cause of Scottish independence and in securing our return to the European Union. I certainly have my differences with her, not least on her support for the proposed reforms of the Gender Recognition Act, but more unites us than divides us."
However Ms Cherry also said she believes she has not had the support she should have expected after receiving abuse from "the tiniest of factions" who have "disproportionate influence" within the SNP, for her stance on the proposed reforms to the Gender Recognition Act.
She has been vocal in rejecting planned moves to a system of self-identification rather than the current medical diagnosis process which allows people with gender dysphoria to legally change their birth certificate to the opposite sex.
Asked why she gave up her legal career for "venomous" politics, she said: "If I'd known it would be like this I wouldn't have stood for election, and it's sad that women might be put off entering politics because of it. And I don't think I've had the support I should have had through all of this."
Ms Cherry has recently announced she will stand for selection as the SNP candidate in the the Edinburgh Central seat - in a contest that puts her head-to-head with former Westminster colleague Angus Robertson. She was returned to the Commons just two months ago to represent Edinburgh South West.
She said: "Competition in politics is healthy. Debating politics is healthy. Debating ideas is good for developing policy. This isn't being disloyal to the leadership. Holyrood and Westminster proceed by debate; this is how we get to the nub of things."
"I wouldn't back a wildcat or illegal referendum. How could I given my legal background? I endorse Nicola's declaration that this should proceed legally. However, we have reached an impasse."
Want to join the conversation? Please or to comment on this article.