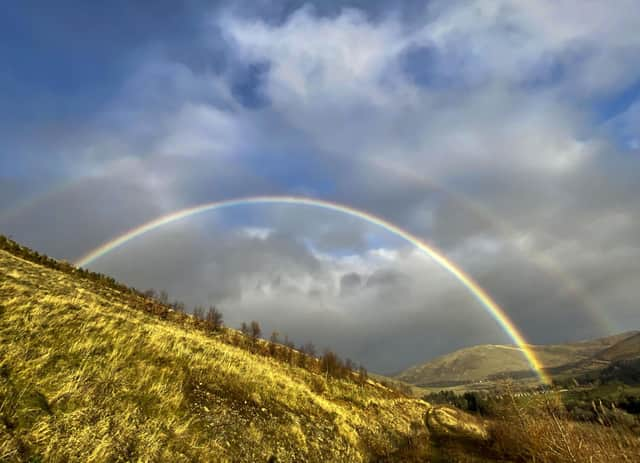 JK Rowling's company, which owns swaths of land at Shepherdscleuch in the Scottish Borders, received more than three quarters of a million pounds in EU subsidies last year. Picture: Lisa Ferguson
The Scotsman can reveal the Harry Potter author, whose personal fortune is estimated at nearly £800 million, is the controlling party and sole shareholder of a firm that received more than three quarters of a million pounds in 2019 via the EU's Common Agricultural Policy (CAP) scheme.
The company in question, Thistlelane Limited, has significant control over another firm, Strathbright Limited. Title deeds show Strathbright owns swathes of forestland in the south of Scotland larger than Edinburgh's Holyrood Park.
Cumulatively, both companies have received more than £1.4m in agricultural subsidies over the past decade, according to records maintained by the UK Department for Environment, Food, and Rural Affairs (DEFRA) and the open data site, Farm Subsidy.
JK Rowling's firm owns swaths of land in the Scottish Borders larger than Edinburgh's Holyrood Park. Picture: Bennett Raglin/Getty
A spokeswoman for Ms Rowling said that grants were available to "all qualifying landowners" and were allocated on a "non-competitive basis" following consultation and approval by Scottish Forestry. She said the firms in question had carried out extensive tree planting to establish new woodlands.
Numerous individuals and investors have become involved in the forestry sector in recent years, thanks in part to generous grant schemes designed to create new woodlands and ensure the sustainable management of existing sites.
Income from timber sales in the UK is free of income and corporation tax and growing timber is exempt from capital gains tax. After two years of ownership, commercial woodlands also qualify for 100 per cent business property relief from inheritance tax.
Ms Rowling, a staunch critic of Brexit, has never spoken publicly about her forestry ownership, and her involvement in the companies has been obscured by the fact she does not hold any directorships in them.
However, the award-winning writer's involvement in the sector emerged as part of research for The Scotsman's series into how some of Scotland's wealthiest and most prominent politicians and landowners have benefited from EU subsidies.
The end of the Brexit transition period on December 31 will signal a technical end of the Common Agricultural Policy (CAP) in Scotland.
Records show that Edinburgh-based Thistlelane Limited received £771,906 last year via the CAP scheme and £23,840 in 2018. The payments were made by the Scottish Government's rural payments and inspections directorate.
Companies House records show that Ms Rowling is listed, under her married name, as a person with "significant control" of the firm and is its sole shareholder.
Thistlelane, in turn, has significant control over another company, Strathbright Limited, registered at the same capital address. Ms Rowling was the sole shareholder in Strathbright until last June, when she transferred her holding to Thistlelane.
Ms Rowling's husband, Dr Neil Murray, is the sole director of both firms. The nature of their business is listed as "silviculture and other forestry activities" in Companies House filings.
Title deeds held by Registers of Scotland show that Strathbright owns vast swathes of land in the Scottish Borders. The landholding, which extends to approximately 740 acres, is known locally as Shepherdscleuch, and is situated near Ettrick, south west of Innerleithen.
The vast majority of the 2019 CAP funding to Thistlelane, some £748,579, went towards investment and development of the forest, according to DEFRA records.
A further £4,141 was earmarked for 'greening', with an additional £18,913 classed as part of the CAP's 'basic payment scheme', a funding pot designed to provide a "safety net" for farmers and crofters.
According to Farm Subsidy, a site that compiles historic records of EU agriculture subsidies, Strathbright also received €614,943 (about £550,000) from the European Agricultural Fund for Rural Development between 2011 and 2013. It also states that Thistlelane received €64,669 (about £58,000) from the same fund in 2013.
Thistlelane's latest accounts, filed with Companies House, state its fixed assets are worth £5.9m, with overall equity of £6.4m. The latest accounts for Strathbright, meanwhile, specify fixed assets worth £890,000, and equity of £1.3m. A filing lodged at Companies House on 12 November, signed by Mr Murray, seeks to strike off Strathbright from the register.
Asked by The Scotsman why Ms Rowling acquired the landholding and how her firms utilised the EU subsidies, a spokeswoman for the author replied: "JK Rowling does not comment on or confirm details of her private business affairs. However, we can confirm that these companies carried out extensive tree planting, including substantial areas of mixed native species, to establish new woodlands at these sites, in full compliance with UK forestry standards.
"Grants are available to all qualifying landowners, are allocated on a non-competitive basis following wide consultation and approval by Scottish Forestry, and are designed to meet Scottish Government objectives for the planting of new woodlands.
She added: "All planting and forestry management on behalf of the companies owned by JK Rowling is undertaken with due consideration to the environmental impact, and with sustainability and protection of wildlife as priorities."
The latest Sunday Times Rich List estimates Ms Rowling's fortune at £795m, up £45m on the previous year, ranking her the 13th richest person in Scotland and the 178th richest in the UK.
Earlier this year, Caernarfon Lettings Limited, another firm in which Ms Rowling is the sole shareholder, purchased the author's childhood home in the Forest of Dean.
Land Registry records show the grade II listed property – which said to have provided inspiration for the Harry Potter franchise – was purchased for around £400,000 by the Edinburgh-registered firm, whose directors include Mr Murray.
A message from the editor:Thank you for reading this article. We're more reliant on your support than ever as the shift in consumer habits brought about by coronavirus impacts our advertisers. If you haven't already, please consider supporting our trusted, fact-checked journalism by taking out a digital subscription.