Jeremy Hunt statement: What time is Jeremy Hunt speech and how to watch fiscal statement
New Chancellor Jeremy Hunt is to fast-track billions of pounds of savings in an attempt to get the public finances back on track and stabilise financial markets after weeks of turmoil.
The yields on UK government bonds have dropped sharply ahead of new Chancellor Jeremy Hunt's emergency fiscal statement due to be announced later on Monday to stabilise financial markets.
Mr Hunt has already warned that taxes will have to rise and public spending will be squeezed to address the black hole in the public finances opened up by former chancellor Kwasi Kwarteng's £45 billion mini-budget tax giveaway.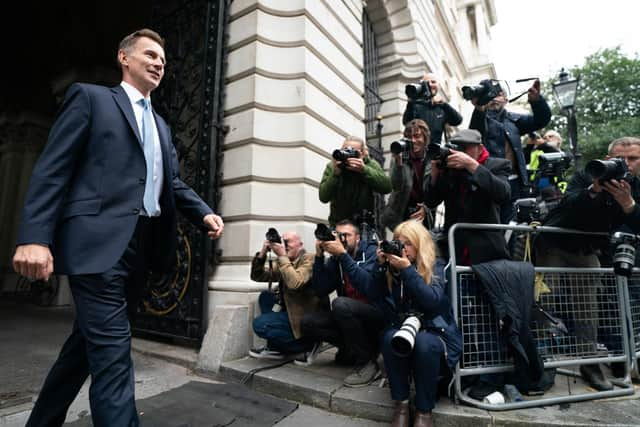 Serious questions remain, in particular, will Truss be able to survive once Trussonomics is consigned to the scrapheap?
Here's everything you need to know and how to watch Jeremy Hunt's statement
What time is Jeremy Hunt giving fiscal statement?
The Chancellor is expected to give his statement at around 11am.
The Treasury said Mr Hunt will issue an emergency statement on Monday to rush forward measures that had been due to be announced on October 31 in what is known as the medium-term fiscal plan.
He will then address MPs in a statement to the House Of Commons later in the afternoon.
The statement will be aired on all major news channels and available on Youtube and other streaming platforms such as BBC IPlayer.
Jeremy Hunt statement: Time and how to watch speech to MPs
Jeremy Hunt's speech to MPs will be at 3:30pm and will be available to watch online on Parliament TV at www.parliamentlive.tv.
Again, the speech will be carried on the majority of major news channels and on other platforms.
Labour has been granted a Commons urgent question on the economic situation after Liz Truss refused to come to the House after the sacking on Friday of Kwasi Kwarteng.
The question, in the name of Sir Keir Starmer, is directed to the Prime Minister although she can delegate a more junior minister to answer for her.
A Labour Party spokesperson said of the Tories: "With the Chancellor junking the majority of its kamikaze budget today, the Prime Minister should have come to the House to make a statement.
"If she had a shred of authority left she would turn up."
Leader of the House Penny Mordaunt will respond to Labour's Commons urgent question on Liz Truss's behalf at 3.30pm, Downing Street has confirmed.
The Prime Minister's decision to send Ms Mordaunt, her former Tory leadership rival, is likely to raise further questions about her authority.
What have the Government said?
The Government website announced: "This follows the Prime Minister's statement on Friday, and further conversation between the Prime Minister and the Chancellor over the weekend, to ensure sustainable public finances underpin economic growth.
"The Chancellor will then deliver the full Medium-Term Fiscal Plan to be published alongside a forecast from the independent Office for Budget Responsibility on 31 October.
"The Chancellor met with the Governor of the Bank of England and the Head of the Debt Management Office last night to brief them on these plans."
Can Liz Truss survive?
For a Tory leader elected on promises to cut taxes in order to boost growth, the abandonment of Trussonomics means her position is now in severe jeopardy.
She has effectively handed control of economic policy to Mr Hunt and her political credibility has been shredded.
But the lack of Tory appetite for a fresh leadership contest, and the difficulties in finding a unifying figure to replace her without a vote, may mean she limps on despite any real support – for now, at least.