The Chancellor claimed relations between the two administrations were far better than the "rhetoric", explaining politicians were campaigners so their words were not representative.
His assertion comes in the wake of the UK Government triggering a section 35 order to block the Scottish Government's Gender Recognition Reform Bill, sparking a legal showdown that prompted Nicola Sturgeon to brand the move as sparking a "culture war".
Speaking exclusively to The Scotsman as he delivered a landmark speech about his growth plan in London on Friday, Mr Hunt also suggested Brexit had created opportunities for the Scottish fishing industry.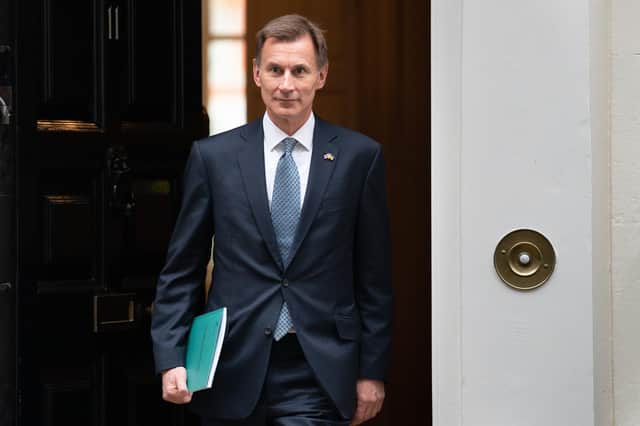 Asked about Scottish independence, Mr Hunt claimed the two administrations could do more together, despite their differences.
"I don't support independence because I think that one of the reasons the UK has been the most extraordinary success has been the partnership between the people of England, Scotland, Wales and Northern Ireland," he said.
"But with all the challenges we face in the world and at home, I think the best thing that we can do as a UK Government is to work closely with the Scottish Government to solve these problems together, and that's what our approach is.
"We understand, the SNP has a different vision when it comes to Scotland's future. We don't agree with that, but that doesn't mean we can't work closely with them."
The Chancellor pointed to fisheries and "many other" areas where the two administrations were working closely, and insisted relations were good, despite the "rhetoric".
He said: "John Glen, my deputy, has had regular conversations with the Scottish finance minister and we stay very closely in touch. I would say that relations are actually pretty good because when Scotland succeeds, the UK succeeds and we want to do everything we can to help Scotland succeed.
"The Autumn Statement, even though we were having a very challenging financial position as a country, we still found more money for Scottish schools and Scottish NHS. Sometimes the political rhetoric suggests that there is less co-operation than there actually is and certainly the UK Government wants to see closer co-operation."
The senior minister also suggested it was the UK Government's vision for Scotland that people wanted, labelling the country a "great success story".
He said: "What people in Scotland want is for the things that matter to them in their daily lives, whether it's the NHS or schools, other public services, economic prospects, they want them to improve.
"The vision that I set out today for the British economy, the fourth pillar, the fourth E is for everywhere. We don't just want prosperity in London and the south-east, we want it across the whole of the UK."
Speaking at Bloomberg's London headquarters, Mr Hunt had used his speech to lay out a plan for Brexit to become a "catalyst" for growth, despite personally backing remain during the Brexit referendum.
With Seafood Scotland previously claiming the costs incurred by new customs checks and paperwork were too much for the industry to survive, Mr Hunt was asked how these opportunities would benefit Scottish fishing traders.
He said: "We are now an independent coastal state and that means that we have the opportunity to negotiate deals that will be good for the Scottish fishing industry.
"I think the total value of the North Sea market that we've negotiated is £750 million. That's an increase of £34m from the year before, and we're working closely with the Scottish Government to negotiate even better deals.
"That's what we can do as an independent coastal state, so I think the opportunities to the Scottish fishing industry are great.
"But what I would say is the opportunities to Scotland are great because it also has outside London, the biggest financial services industry in the UK. And the Edinburgh reforms that I announced will see an extra £100 billion invested in UK growth businesses.
"Many of those are in Scotland, fintech in Edinburgh, gaming in Dundee, Scotland's got a lot of very successful technology businesses. I think there is a very big opportunity for all parts of the UK".
Earlier during his speech, Mr Hunt had claimed reducing inflation was the "only sustainable way to restore industrial harmony" in Britain.
Cutting inflation by half is one of Prime Minister Rishi Sunak's top five priorities in the run-up to the next general election.
It comes against a backdrop of public sector strikes over pay and forecasts the UK could be heading for a recession, with inflation standing at 10 per cent, according to some measurement forms.
Mr Hunt said: "My party understands better than others the importance of low taxes in creating incentives and fostering the animal spirits that spur economic growth. Another Conservative insight is that risk-taking by individuals and businesses can only happen when governments provide economic and financial stability.
"So the best tax cut right now is a cut in inflation."
The Chancellor also said he wanted to reverse what he called a "declinism" attitude in Britain, declaring the country's economy had "grown at about the same rate as Germany" since the 2016 European Union referendum.
He said Brexit should be looked at as an opportunity to "create an economic environment which is more innovation friendly, and more growth focused".
"Our plan for growth is necessitated, energised and made possible by Brexit," he said. "The desire to move to a high-wage, high-skill economy is one shared on all sides of that debate.
"We need to make Brexit a catalyst for the bold choices that will take advantage of the nimbleness and flexibilities that it makes possible."
Responding to the speech, Labour accused the Conservatives of lacking a plan.
Rachel Reeves, Labour's shadow chancellor, said: "Thirteen years of Tory economic failure have left living standards and growth on the floor, crashed our economy, and driven up mortgages and bills. The Tories have no plan for now, and no plan for the future."
Liberal Democrat Treasury spokeswoman Sarah Olney said: "This Conservative Party sounds like an unfaithful partner asking for yet another chance.
"But after crashing the economy and sending mortgages sky high, why should we trust them again? Jeremy Hunt's speech is cold comfort for families and pensioners facing unbearable price rises."