It is his first big economic speech since he unveiled tax rises in his Autumn Statement, he defended not cutting taxes saying that "the best tax cut right now is a cut in inflation", arguing that reducing inflation was the "only sustainable way to restore industrial harmony" and pledged to put a "restraint on spending".
He added: "The best tax cut right now is a cut in inflation.
"And the plan I set out in the autumn statement tackles that root cause of instability in the British economy."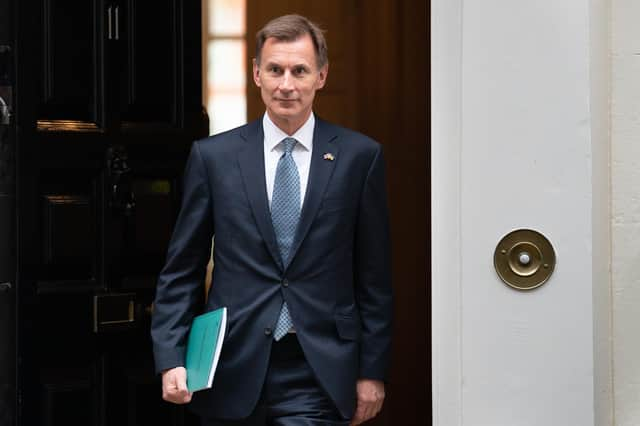 Addressing Bloomberg's London HQ the Chancellor said he wanted Brexit to become a "catalyst" for economic growth in order to reduce the "weaknesses" in the UK economy,
Setting out his long-term vision for how to boost the UK's economy, he said there had been "uneven, lower growth" in Britain, listing issues such as structural productivity, skills gaps and low business investment and the "overconcentration of wealth in the South East".
The Chancellor, in a speech in central London, said: "We want to be one of the most prosperous countries in Europe. Today I want to set out our plan to address those issues.
"That plan, our plan for growth is necessitated, energised and made possible by Brexit.
"The desire to move to a high-wage, high-skill economy is one shared on all sides of that debate.
"We need to make Brexit a catalyst for the bold choices that will take advantage of the nimbleness and flexibilities that it makes possible."
He also claimed that Brexit has provided an opportunity for the UK to change its regulations so that innovative companies can more easily access cash.
Hunt said that "Britain needs a more positive attitude to risk-taking", as it is "too cautious compared to our US friends."
"Brexit is an opportunity not just to change regulations, but also to work with our experienced, effective, and independent regulators", he said.
"To create an economic environment which is more innovation friendly, and more growth focused."
He added that scale-up companies have a "critical" need to more easily access capital, and referred to the Government's Edinburgh Reforms package which are set to make the UK a more competitive place for businesses.
The reforms "could unlock more than £100 billion of additional investment into the UK's most productive growth industries", Mr Hunt reiterated.
Hunted told people who left work during the pandemic and have not returned that "Britain needs you".
"If companies can't employ the staff they need, they can't grow.
He said that one fifth of working age adults are economically inactive. Around five million people do not want to work, he added.
"It's time for a fundamental programme of reforms to support people with long-term conditions or mental illness to overcome the barriers and prejudices that prevent them from working.
"We will never harness the full potential of our country unless we unlock it for each and every one of our citizens."