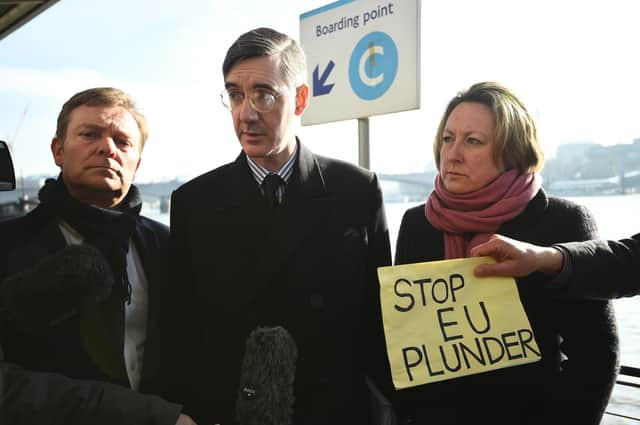 Jacob Rees-Mogg claimed fish were now happier because they were British
The Tory leader of the House of Commons today made the surreal claim after concerns were raised over the impact leaving the EU has had on the fishing industry.
Mr Rees-Mogg was responding to a question from the SNP's Tommy Sheppard who said Brexit was a "disaster".
He continued: "Boats confined to harbour, lorry loads of seafood destroyed, the industry losing £1 million a day as firms go bust – all as a result of Brexit red tape imposed by this Government.
"Yet when asked about this yesterday, the Prime Minister refused to answer."
Mr Rees-Mogg suggested Scottish fishermen should be happy that Britain "got our fish back".
He said: "The government is tackling this issue and is moving as quickly as it can.
"The key is that we've got our fish back! They're now British fish and they are better and happier for it."
Speaker Sir Lindsay Hoyle intervened, joking: "Obviously there's no overwhelming evidence for that."
Lib Dem MP Alistair Carmichael, who had an urgent question on the crisis this morning, hit out at the comments.
He said: "The fish are certainly more likely to be happy - because they won't be caught as long as fishing boats are tied up and unable to go to sea because of Boris Johnson's mismanagement and broken promises.
"They may be "British fish" but thanks to the Government's incompetence on exports a lot of them are being processed in Denmark as we speak.
"It is disgraceful that Jacob Rees-Mogg thinks he can treat fishing like a punchline when livelihoods are on the line this week.
"With every day that passes it becomes more and more obvious that the Conservatives have no interest in or commitment to the fishing industry.
"Whether it is Boris Johnson brandishing live crabs on an Orkney trawler or Nigel Farage and Kate Hoey steaming up the Thames, the same thing is true.
"They only see the fishing industry as a prop for a photo shoot and their commitment lasts only until the cameras are packed away.
"It is difficult to decide which is more offensive - the mendacity of Johnson, the complacency of Eustice or the arrogant flippancy of Rees Mogg.
"Either way they have all let down the people to whom they made their promises."
Labour's Shadow Scotland Secretary Ian Murray also tore into the comments, and accused him of lying.
The Edinburgh South MP said: "Rather than Jacob Rees-Mogg stupidly going on about British fish, he would be better to explain why he lied to the British people about the impacts of Brexit and apologise to the fishing industry that he and his colleagues have let down."
SNP President Michael Russell tweeted: "Yesterday many were disgusted with the flippant responses from Johnson to serious questions about real losses being experienced by Scottish companies unable to export.
"This adds further arrogant insults to such callous injury.
"Jacob Rees-Mogg as unfit for office as his boss."
Scottish seafood deliveries to the EU have been halted until January 18 because of Brexit.
Smaller firms have faced a series of problems from long health checks, IT systems and new customs documents.
Now facing a huge backlog, Scottish fishing has been plunged into crisis with lorry-loads of live seafood being abandoned due to a failure to send it across.
Earlier today DEFRA Secretary George Eustice insisted the problems were being worked out and just "teething problems".
Business also questioned Mr Rees-Mogg's comments, including James Withers, the CEO of Scotland Food and Drink.
He said: "Whether it is comments about nativity trails or the happiness of fish, these attempts at humour are not helping.
"People are stressed, angry and some feel their businesses are slipping away.
"Would be helpful if all efforts went on solutions, not dismissive quips."
If you haven't already, please consider supporting our trusted, fact-checked journalism by taking out a digital subscription.