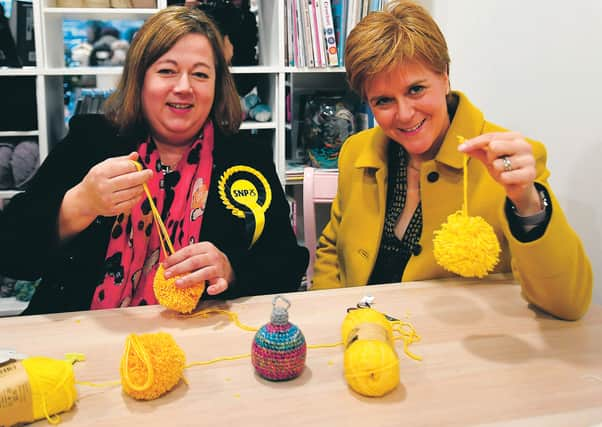 The SNP's deputy leader in Westminster has admitted she "doesn't trust Boris Johnson" but claimed he'll have no say on whether Scotland becomes independent.
Speaking exclusively to Scotland on Sunday, Kirsten Oswald dismissed recent interventions from Labour leader Sir Keir Starmer and Liberal Democrat leader Sir Ed Davey, insisting it was solely a matter for the "people of Scotland".
Both men visited Scotland in the past two weeks, with Sir Keir agreeing the SNP would have a mandate for another referendum if they win the Holyrood elections next year, and Sir Ed ruling it out. Speaking after the two Westminster party leaders had laid out their views, Oswald suggested it did not matter what they thought.
She said: "It's not for them to make a decision on Scotland's future, it's for people in Scotland. They may express their view but the people in Scotland are the ones who will decide what our future will be, it is not for anyone in Westminster to decide."
Oswald dismissed the idea that the UK parliament would have a say in holding another vote, insisting the decision would be made in Scotland.
She said: "I don't trust Boris Johnson, but that's a separate issue.
"It's not for Boris Johnson, any more than it is for Keir Starmer or Ed Davey to tell us that we can't, it's always for the people of Scotland.
"They can bluster if they wish but I'm looking forward. I'm not sure what campaigning will be like but I'm looking forward to it."
The East Renfrewshire MP also paid tribute to her predecessor, Kirsty Blackman, who stood down from the role in July and this week shared in a Twttier thread some details of her battles with mental health.
Blackman revealed she was diagnosed with moderate depression and on some days "couldn't find the energy to get off the sofa".
Oswald said sharing the experiences reminded the public that politicians are "human beings just like everyone else".
She said: "I thought it was typically Kirsty, that kind of tweet, she's a really powerful advocate for so many different topics.
"She's clearly going to influence people on mental health issues by having the strength and character she's shown to come out with her own experiences.
"Particularly at the moment, Covid is hard for everyone, people will have more challenges to face than usual. To see someone in a position like Kirsty being so open and frank is incredibly welcome. I'm also glad she's beginning to feel a wee bit better."
Oswald also tore into the UK government over the controversial Internal Market Bill as "damaging and a bit dangerous".
Ministers have openly admitted the bill breaks international law, a decision Oswald branded "ill thought out".
She said: "It's quite extraordinary that the UK government are quite calmly saying, 'Yes we are going to break international law'.
"Despite all of the significant protests and comment from people here, significant comment from former prime ministers, from people overseas, and broader society, there are a number of people in the government still telling us it's not something to worry about, it's only breaking international law.
"It's wholly unacceptable, and it's not how it's viewed outside the political bubble."