Israel-Hamas conflict: Scottish midwife goes on hunger strike to call for immediate ceasefire
Sharon Lock will go on hunger strike outside Holyrood in protest
Sharon Lock, 49, from Kintyre, plans to not eat any food and hold a one-woman demonstration outside the Scottish Parliament until Friday, November 3 in solidarity with those living in Gaza.
First Minister Humza Yousaf, whose in-laws are currently trapped in Gaza, has called for an immediate ceasefire to allow for people to leave the region and for humanitarian aid to be brought in.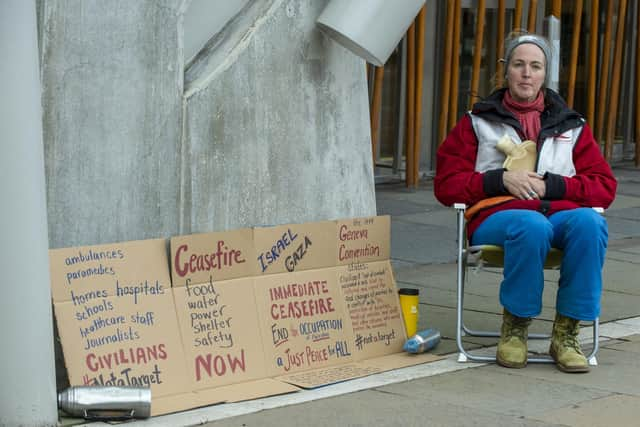 So far, neither Prime Minister Rishi Sunak nor Labour leader Sir Keir Starmer have explicitly called for a ceasefire, with Mr Sunak saying Israel has the right to defend itself.
Ms Lock says she hopes her hunger strike will amplify the calls for a ceasefire in the region. Speaking to The Scotsman, she said: "I am here to demand an immediate ceasefire.
"The Geneva Convention says healthcare facilities, healthcare workers and emergency rescuers are not legitimate targets in a conflict. I am a midwife, so I feel greatly for my colleagues who are struggling. It is impossible to imagine the circumstances they are trying to give care in.
"I am also aware there is a very strong and passionate Israeli and Jewish voice for peace, and those voices are not being heard."
Ms Lock says she is particularly concerned for the 50,000 pregnant women in Gaza, including 5,000 who are due to give birth in the next month, as there is now no clean water available.
She said: "It is beyond my imagination, and it is beyond what should be allowed to happen."
Before becoming a midwife, Ms Lock volunteered with the Palestine Red Crescent Society in both the West Bank and Gaza, where she primarily worked to protect fishermen, farmers and paramedics while they went about their day-to-day lives.
She says this has given her some insight to the horrors now unfolding in Gaza.
Ms Lock says: "From my volunteering I can tell you that life under occupation is no life. I volunteered in Gaza in 2007 when they were under attack for 22 days.
"I'm aware I now have friends in the hospital where I worked who are now in the exact same situation, except on a much worse scale. We had to carry the wounded into hospital, so I can visualise very clearly what is happening to them right now."
Israeli Prime Minister Benjamin Netanyahu has ruled out a ceasefire, saying "this is a time for war". Since the conflict began, 239 people have been kidnapped as hostages and more than 1,400 people have been killed.
The Hamas-run health ministry in Gaza says more than 8,000 people have been killed since Israel retaliated to the attack from Hamas. Ms Lock says she felt compelled to go on hunger strike in solidarity with the civilians and healthcare workers in the region.
"Oxfam says only 2 per cent of the food supplies needed are getting into Gaza, so everyone there is hungry," she says. "Me not eating for five days is nothing compared to what the youngest child or the oldest person in Gaza is going through, with no end to the hunger."
Comments
 0 comments
Want to join the conversation? Please or to comment on this article.