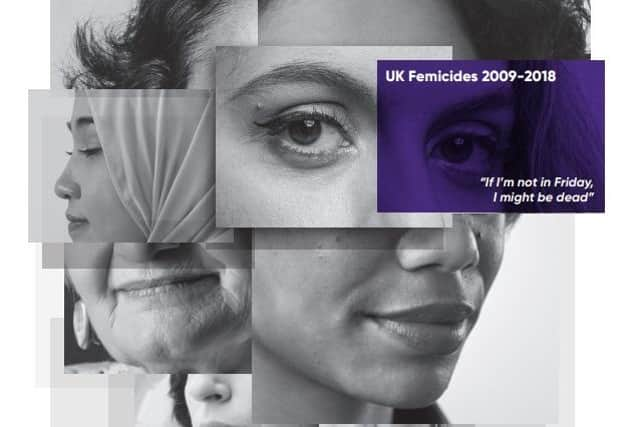 The Femicide Census says one woman is killed every three days in the UK
Ahdieh Khayatzadeh had the temerity to divorce her husband, so he doused her in petrol and set her alight at a Stirling beauty salon in 2014. Twenty-nine year-old Janet Lockhart was still married to hers when he strangled her, and also killed their two-year-old son Michael, at their home in Bonnyrigg in 2013. Zoe Nelson, from Newmains near Wishaw, was just 17 when her life was taken by her sometime boyfriend, he attacked her, put a plastic sheet over her face and set her on fire.
The tragic murders of these women are just six from a list of 112 who were killed in Scotland over the decade from 2009, at the hands of a man who was supposed to love them, or at least at one time have loved them. Every single one has left behind a heartbroken family for whom the scars of loss will never fully heal. Statistically their deaths add up to one murder a month, and are part of what has been described as an epidemic of violence against women across the UK. Indeed the Femicide Census, published earlier this week, shows that, on average, one woman or girl is killed every three days at the hands of a man.
It is the fifth such census – sub-titled "If I'm not in Friday, I might be dead" – and was published on International Day for the Elimination of Violence Against Women, a day which kicks off 16 days of global activism around the world to highlight the issue. In Scotland, despite a lack of recognition for the day in the Twitter feeds of the majority of MSPs, including party leaders, a debate to mark the campaign was held in Holyrood; female politicians from across party political boundaries united in a call for violence against women and girls to end.
The census statistics are disturbing, but as its co-founder Karen Ingala-Smith says, they must be studied unflinchingly if anything is to change. It states that across the UK between 2009-2018, 1,425 women were killed by 1,419 men and worryingly, it finds the number of women killed every year has stayed distressingly consistent with between 124 and 168 women killed each year.
In 46% of all cases the man had a history of violence, whether against the woman he killed or against others. In at least 59% of femicides committed by intimate partners or male relatives, there was a history of prior abuse by the man against the woman. In 67% of cases of intimate partner violence, the victim had told someone about the abuse she was experiencing and in 55% of cases, the violence and brutality used in the killing amounted to "overkilling".
The most common method of killing was with a sharp instrument – 47% – followed by strangulation/asphyxiation at 27% followed by the use of a blunt instrument, then by hitting, kicking or stamping. In 62% of cases, the woman was killed by a current or former partner and in 43% of those cases the victim had either already left or taken steps to leave. In 89% of such cases, she was killed within one year of leaving.
In a further 10% of cases, the violence was committed by a male relative, including 111 cases of sons, step-sons and grandsons killing mother figures.
"By any measure, we had hoped to see the number of killings gradually decreasing given the state has had our data for a number of years, as well as its own initiatives to tackle men's violent crime against women," says Ingala-Smith, who is also the CEO of London-based domestic violence charity, Nia. "We show that there are so many patterns to the killings which would enable the state to target certain factors which could lead to a reduction in the number of women killed.
"The fact that a similar number of women are still being killed over a decade is a serious failing and indicates a lack of will to tackle root causes."
Ingala-Smith recalls having the original Zero Tolerance campaign images on her bedroom wall. But that hard-hitting, ground-breaking campaign in Edinburgh was nearly 30 years ago, "and yet here we are still having to raise this issue," she says. "Things have changed, yet nothing has."
The problem she says is that many arms of government, and beyond, consider the issue to be a "gender-neutral problem" which hides the specific nature of women's disproportionate victimisation by men. "Can men be victims and women perpetrators? Yes of course," she says. "But if you define domestic violence saying anyone can be a victim or perpetrator, it ignores that women are disproportionately victimised and men are disproportionately the perpetrator. If you come at if from a gender-neutral angle you will never change it. It's like hitting a pool ball at the wrong angle - it goes into a pocket but the wrong one."
She adds: "The notion that these are all just isolated incidents – that they happen and it's over and not a problem for wider society – is also something which permeates, so the problem of men's violence against women is not seen for what it is, that it occurs because of the structures in society which allows women to thought of as subordinate. What I would really like to see take place is the equivalent of the Macpherson report into institutional racism in the police, but looking at sexism across the whole of the state apparatus.
"The system is just stacked against women. We've got to look at sex inequalities and the objectification of women as a sex class and men's sense of entitlement and to keep that focus at that high level for years to get change. Political parties are interested in quick fixes and there's not one for this problem."The census includes all the circumstances in which men kill women, not just intimate partner and family femicides, and it found a further 117 cases of deaths of women which were suspicious or violent but could not be included because ultimately no one was convicted. The vast majority of deaths, however, were rooted in domestic abuse.
Ingala-Smith says: "The known histories of violence of these men and the fact that so many women had told someone or sought help is a shocking indictment of the failure of the systems that are meant to respect, protect and fulfil women's human rights. It gives the lie to the standard press releases that these killings of women are 'tragic, unpredictable, isolated incidents', they have common patterns, they have known risk factors, they demonstrate a massive public policy failing which should concern us all."
The failures the report points to are mostly south of the border, as in Scotland there is now a great deal of co-operation between government, women's organisations and the criminal justice system. The Equally Safe strategy which aims to prevent and eradicate violence against women and girls was jointly developed, and last year Scotland passed a domestic abuse act hailed as the "gold-standard" of such legislation after much consultation with those delivering front-line services and the women who needed them. Funding to Scottish Women's Aid in particular has also been vastly increased during the pandemic as it was realised early on that telling people to stay safe from the coronavirus at home, might not be the message women suffering from abuse and violence needed to hear.
The deaths in the census are also the tip of a very large iceberg. There is a bleak acceptance that only once the pandemic is over will the full extent of domestic violence during months of lockdown be understood. However prior to Covid, Police Scotland already reported that dealing with incidents of domestic abuse was the single biggest demand on their time with one incident reported every nine minutes. Statistics from the Scottish Government show the police recorded 60,641 incidents of domestic abuse in 2018-19 – up two per cent on the previous year – with four out of every five incidents recording a female victim and a male accused.
Sexual crimes are also rising, up eight per cent in 2017-18 from 12,487 to 13,547 – the highest level since 1971. Indeed while many other crimes in Scotland are falling, the figures for sexual offences continue to rise.
Statistics also show that women of colour and from minority ethnic groups are disproportionately impacted by specific forms of violence such as forced marriage, FGM and "honour"-based violence with research highlighting that the level of disclosure for Black and minority ethnic victims of domestic abuse is far lower than that of the general female population. Ash Kuloo of Scottish Women's Aid says far more needs to be done to understand the true level of abuse experienced by BME women.
"There are so many discussions about intersectionality and how it fits in with women and girls' experience of violence, that much more research is required as it's incredibly complex," she says. "It's why it's vital to keep violence against women and girls at the forefront of the mind of politicians and the criminal justice system, because unless we really know what's happening we cannot begin to tackle it."
She adds: "In the home some extended families live together so you can have women experiencing abuse from their husband but also then from his father and brothers. But like all abuse it's about an imbalance of power, and many women stuck at home have no access to technology, or don't know how to use it. If they have come to this country as refugees they might not even have the language to ask for help, to describe what is happening to them. There needs to be a far greater focus on this."
Disabled women are also more likely to experience men's violence. Again, statistics show that girls and women with disabilities may face up to 10 times more violence than those without, and that 40% of women with a long-standing illness or disability have experienced partner abuse.
Pam Duncan-Glancy, a Glasgow-based disability and equality activist, says the picture is "grim" for all women, but even more so for those with disabilities, whether they are hidden or not. "The most important thing is to understand why this is the case – which is why it's vital to have this current focus on violence against women and girls – and that is that it's a structural problem about the position of women in society and when you layer the position of disabled women on top of that, then the levels of oppression and abuse are shocking, though not surprising," she says.
"Domestic abuse services are also not always accessible, and that's of course if you can even get out of the house. Imagine if the person you rely on to dress you and feed you is also the person who is abusing you – who do you tell? And the more the state cuts services, cuts financial support, then the more reliance disabled women have on that partner. It's so often a hidden problem and it's incredibly difficult for these issues to come to the fore but they desperately need to."
During the Scottish Parliament debate marking the International Day for the Elimination of Violence Against Women, there were calls for more to be done to protect women from male violence, for all legislation to be "woman-proofed", for the justice minister to tackle a new defence of "rough sex gone wrong", used by men who claim their partners wanted to be strangled to the point of asphyxiation, and for the government to criminalise the purchase of sex.
In an emotional speech Ruth Maguire made reference to the statistics of one woman killed every three days in the UK, saying: "Scotland is not equally safe. Too many still face the burning injustice of workplace sexual harassment, pregnancy discrimination, domestic abuse, FGM, so-called "honour" crimes, sexual assault, rape, trafficking, stalking and prostitution. Globally women and girl are being refused access to education and trapped in conflict where rape is used as a weapon of war. The number of sex selective abortions is rising, the number of deaths related to childbirth is needlessly high and women and girls are prevented from making deeply personal choices about their reproductive health care. We know inequality is a cause and a consequence of these human rights abuses… we know there has to be action and investment, legislation, policy and action on the ground in all areas."
Equalities minister Christina McKelvie, who closed that debate, says she has been working to tackle violence against women and girls her "whole adult life". She says the femicide census figures demonstrated a "stark story and demonstrates in the most horrifying way the need to tackle domestic abuse.
"They are a drive for me to do more... yes the 16 days of activism is a chance to mark the progress, the work that's being done to change this problem on the ground. We know we're doing a lot across government too, but more can always be done and I don't shirk that responsibility."
She says in particular the face of Emily Drouet is never far from her mind. While the 17-year-old took her own life and is therefore not part of the femicide census, her suicide in 2016 was the result of domestic violence perpetuated over months by her university boyfriend. "That 112 women have died over the decade.. well it shouldn't even be one… and I can't help but think of Emily and what happened to her whenever we discuss domestic abuse in all its forms."
Asked why she feels the statistics show little change despite the government's focus on the problem, she says: "I think it's because it was hidden for so, so long. The first piece of legislation the Scottish Parliament passed was on domestic abuse and that was the first real look at it and we've been working cross-party on this ever since. Every police officer is now trained by the third sector experts on this, the judiciary has been trained, we've got Equally Safe and a new Domestic Abuse Act which is ground-breaking in what it recognises as abuse.
"We are looking at a misogyny offence and I will be raising the rough sex defence with Humza Yousaf and we're working with the Home Office too on a code word scheme for pharmacies. Prevention is the key though, teaching young boys and girls about what a healthy relationship looks like. But things are getting better and I am hopeful for the future."
Meanwhile Ingala-Smith says her report for the number of women killed last year will be out soon. "We'll keep on marking the deaths of these women at the hands of men until something really changes," she says.
A message from the Editor:Thank you for reading this article. We're more reliant on your support than ever as the shift in consumer habits brought about by Coronavirus impacts our advertisers.
If you haven't already, please consider supporting our trusted, fact-checked journalism by taking out a digital subscription.