Insight: Why Kamala Harris could seal Biden US election win over Donald Trump
The first time I became aware of Kamala Harris – probably the first time most people outside the US became aware of her – was at the Brett Kavanaugh hearings in 2018. It was the reassurance she offered Christine Blasey Ford that caught my attention. Blasey Ford appeared traumatised as she gave evidence about the alleged sex attack she suffered at his hands at the age of 15. Smiling at her, Harris said: "You understand that you are not on trial here?"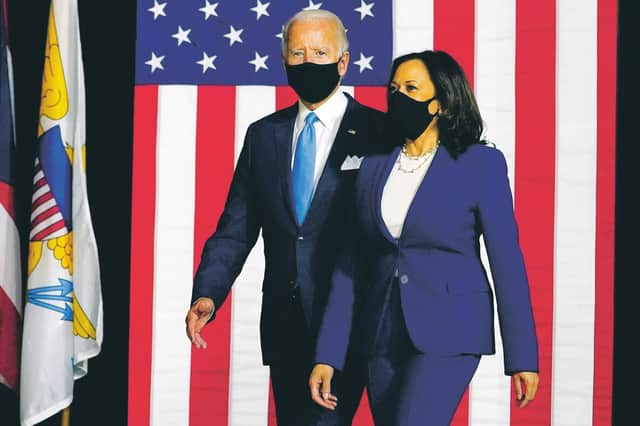 But it was footage of her interrogation of the would-be Supreme Court judge that went viral. She pressed him on several issues: whether he was prepared to call for the White House to authorise an FBI investigation into the allegations and about the potential rolling back of abortion rights. "Can you think of any laws that give the government the power to make decisions about the male body?" she demanded. Kavanaugh equivocated and squirmed under her forensic questioning.
Last week, Harris was back on the offensive. Having been chosen as Joe Biden's running mate – the first woman of colour to join a major presidential ticket – she lost no time in attacking Trump. "America is crying out for leadership," she said at her first joint campaign event with the presumptive Democratic nominee. "Yet we have a president who cares more about himself than the people who elected him. A president who is making every challenge we face more difficult to solve."
Though Harris had gone after Biden while she herself was seeking the nomination – challenging his one-time opposition to federally-mandated busing in the first Democratic debate, for example, she was the obvious choice for vice president.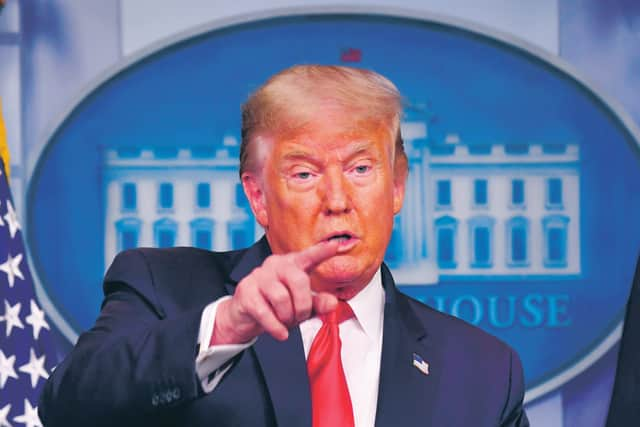 "There is a tradition of picking someone who has won in the primaries and is seen to be a strong candidate even if they were opposed to you," says Phillips O'Brien, (inset)professor of strategic studies at St Andrews University. "Usually the vice-president balances the president. Reagan picked Bush who had performed quite well in the primaries against him – they represented different wings of the party. And Harris balances Biden extremely well: she is young, ethnically diverse, she is a woman, she is west coast, while he is east coast."
Biden and Harris, who is bi-racial, are both moderates (however much Trump tries to suggest otherwise). But, according to Dr Malcolm Harvey, who teaches a course in American politics at Aberdeen University, Biden has been trying to present himself as further left than he is to shore up the progressive Democrats – the Bernie Sanders supporters in the Rust Belt states like Wisconsin, Pennsylvania and Michigan that Hillary Clinton failed to pick up last time round.
Biden will be hoping Harris can boost the number of BAME voters who turn out to vote Democrat, especially in states such as Georgia, which are usually Republican but could turn blue this time round.
"One assumes the Democrats will win a huge percentage [of the black vote] – it's more that she might be able to motivate more people of colour to turn out on the day,"says O'Brien.
"And women too. Trump has a huge problem with women which he seems to be exacerbating by his attacks. The hope is that those who don't like Trump, but might not be excited by Biden – an old, white, man – will be excited about Harris."
The 55-year-old senator is liberal on abortion rights and gun control, but, at the same time, she is not progressive enough to scare soft Republicans who are also looking for an alternative to Trump. "Harris is a very good pick – in the sense that symbolically she looks quite progressive but as a prosecutor in California she took a hard line on justice issues," says Harvey.
"She is not Elizabeth Warren, she is not Bernie Sanders, she is speaking to a different part of the electorate and that's the more moderate conservative voters, who have a concern over justice issues, who are scared that Democrats are going to defund the police; that they will do everything that Black Lives Matters wants.
"So, while importantly, she is a woman of colour and so will pacify Democrats on that front, the hope is that those conservatives who dislike Trump could look at her and say: 'I could vote for that'."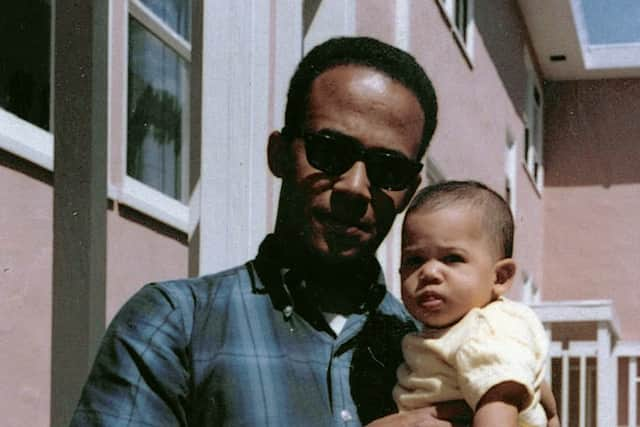 Also on her side is the fact that – having sought the presidential nomination herself – she will already have been subject to scrutiny. "It would be unusual if – having held public office as long as she has, and then been through the primaries – there were any skeletons left in her closet," says Harvey.
Certainly, Biden's choice seems to be going down well with voters. A Politico/Morning Consult Flash poll on Thursday showed 53% approval compared to 29% disapproval.
Furthermore, Harris is playing well with key demographics: 84% of Democrats, 79% of Black voters, 56% of voters under 35, 61% of voters aged between 35-44, and 55% of voters aged 65 and older approve of Biden's choice. Only among voters aged 45-64 does she not earn majority support.
Harris's appeal is also being credited for the $26m raised by Biden's campaign in the 24 hours after she was announced as his running mate. Last month, Trump's fundraising topped Biden's by $30m, but the gap is closing.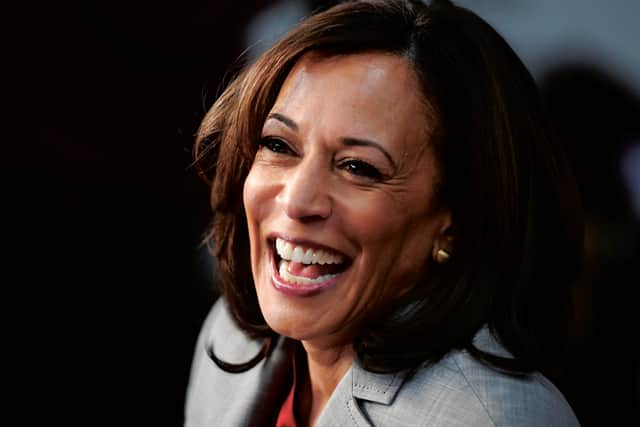 As a woman of colour, of course, Harris is unlikely to be given an easy ride; she will be targeted by misogynists, racists and conspiracy theorists. Two days in, there is already a birther campaign – similar to the one launched against Obama – suggesting she is not eligible to be vice president because her parents were immigrants. Harris was born in Oakland, California (those born in the US are eligible regardless of their parents' immigration status); but this has not stopped Trump from amplifying these claims.
Continuing the racist theme, there have been efforts to discredit her by presenting her as the descendant of Irish slave owner, Hamilton Brown, on the back of something her father Donald Harris wrote. This claim has not been properly verified, though what difference it would make given the number of black people who were the product of rape by slave owners is unclear.
Trump also used sexist tropes to denigrate Harris's performance at the Kavanaugh hearings where he said she was "extraordinarily nasty" to his Supreme Court nominee. "Sort of a madwoman, I call her, because she was so angry and such hatred with Justice Kavanaugh," he told the Fox Business network.
As a woman of colour making her way up the political ladder, such tactics will be no surprise to Harris. "Joe Biden recognises there is no way she has got as far as she has got without fighting tooth and nail," says Harvey. "She will be up for that fight; she will be ready for everything that can be thrown at her."
Harris's backstory is a script-writer's dream: her Indian mother Shyamala Gopalan was the Brahamn daughter of a diplomat from Chennai who travelled to the US to study nutrition and endocrinology at UC Berkeley, after graduating from the University of Delhi.
There she met Donald, a Jamaican, who was studying for a PhD in economics. They came together through the student civil rights movement centred on Berkeley, fell in love and were soon married. Kamala was born in 1964, her sister Maya in 1966. Gopalan's activism continued and she would take Kamala to protests in a pushchair.
She and Donald split up when Kamala was seven. Gopalan was given principal custody of the girls and from then on the three of them formed a tight unit. .
Though Donald was not around much after the divorce, Gopalan realised it was important to keep her daughters close to their black roots – so they grew up surrounded by black intellectuals and informed about African American heroes such as Harriet Tubman and George Washington Carver.
"She knew her adopted homeland would see me and Maya as black girls and was determined we would grow into confident black women," she wrote in her autobiography.
Harris talks in admiring tones about her mother, who was just 5ft, but punched above her height, telling audiences that whenever she complained, Gopalan would reply: "Well, Kamala, what are you going to do about that?" Working in science, Gopalan suffered both racial and sexual discrimination which Harris witnessed. She was a constant figure on her daughter's campaign trails until she died of cancer in 2009.
Living in the southwest Berkeley flatlands, west of the city's racial dividing line, Harris was bused to a school in a wealthier, whiter neighbourhood. This is an important part of her "foundation" story; something that shaped her values and from which she benefited. The reason her criticism of Biden's opposition to federally-mandated busing, back in the 70s, was so powerful was that it was personal. She was able to say: "That little girl was me."
Later, her mother took the family to Montreal, where Harris and Maya staged a successful demonstration over rules that prevented children from playing on the lawn. But Harris returned to the US to study political science law at Howard University in Washington DC, and law at Berkeley. She became a prosecutor in 1990 and was elected as San Francisco District Attorney in 2004, and Attorney General of California in 2011.
Aside from her mother, Harris was inspired by Shirley Chisholm, the first black woman to be elected to Congress and the first to run for the presidential nomination. "We stand on the shoulders of Shirley Chisholm and Shirley Chisholm stood proud," she has said. Harris's career has also been a series of firsts: first black woman to be elected a DA in California, first woman to be California's Attorney General, first Indian American woman to be elected senator.
Her track record as a prosecutor is controversial. During her tenure as San Francisco DA, the conviction rate for offences rose to 53% in 2005 and to 66% in 2006, the highest in a decade. It continued to rise, reaching 76% in 2009. Convictions of drug dealers rose from 56% in 2003, to 745 in 2006.
In 2005, she launched a successful community-based initiative, Back on Track, to reduce recidivism among first-time drug-trafficking defendants, but she later opposed statewide use of body cameras for police officers and fought legislation that would require her office to investigate officer-involved shootings.
She took a tough approach on truancy too, eventually bringing in a law to make it a criminal misdemeanour for parents to allow their children to miss more than 10% of classes. The motive for this was positive: statistics showed a disproportionate number of homicide victims were high school drop-outs and that there was a link between truancy and becoming involved with crime.
But it had a disproportionate effect on the most vulnerable – for example single, black mothers who couldn't skip work to care for a sick child so asked a sibling to care for them instead. More recently, Harris has expressed some misgivings about the scheme. Since becoming a senator in 2017, she has pushed for reform of the criminal justice system, becoming particularly vocal after the killing of George Floyd sparked nationwide Black Lives Matter protests in May.
Even before she became a senator in 2017, Harris was being marked out as a future star. Initially seen as a frontrunner in the race for the Democratic presidential nomination, she presented her policy priorities as a "3am agenda" – those issues that keep people awake in the wee small hours. Harris also has an army of online followers known as #khive - a riff on Beyonce's #Beyhive. Even so, the campaign faltered and she withdrew in December citing a lack of funds. Three months later, she endorsed Biden; and now they are a team.
At the time of writing, Nate Silver's FiveThirtyEight website puts the chances of a Biden/Harris win at 72%. Perhaps more interesting than the headline figure, however, are the predictions for individual states. Biden is ahead by six percentage points in the swing state of Florida. He is ahead too in Arizona which has been red for the last 70 years. And in Texas, the quintessential red state, there is a margin of less than five percentage points between the two contenders.
"The one to watch out for on the night is Arizona," says Harvey, "It is generally a Republican state, but there's a suggestion that the Democrats might carry it this time. In 2016, Hillary Clinton didn't campaign in Wisconsin because she was sure the Democrats would win it, and then it went to the Republicans.
"Arizona is 2020's Wisconsin, in the sense that, if the Democrats can win Arizona, they will likely win the election."
O'Brien says the election is Biden's to lose but that doesn't mean he won't.
"The problem Trump has is that it looks like 50% of people want him out." The academic believes Biden would have been ahead regardless at this stage, but the pandemic and the protests during the pandemic have helped.
"Trump thought the protests would rebound in his favour playing to the 'law and order crowd'; but they just made people exhausted by the divisions in the country. That's all that really matters to people in the centre. Trump is playing on division and they want to return to some sort of peace and quiet in their lives. If Biden and Harris can keep the campaign going and not make any huge gaffes they are in a very strong position to win."
Harvey is less optimistic. He points out the polls put Clinton ahead last time. And of course Trump is doing his best to suppress votes and de-legitimise the election.
Coronavirus means there has been a swell in demand for – and acceptance of – postal voting in some states which Trump claims will increase fraud. "He has said he will de-fund the Post Office to stop this," Harvey says."If it becomes widespread that would be problematic."
But O'Brien says, at this stage, all Trump can do is hope that if Biden wins he does it by a very small margin which can be challenged in the courts. "That would be his only recourse," he says.
Harvey is going out to the US in January and hopes to see Biden inaugurated and Harris become VP.
"It's hugely important that the people who represent you look like you," he says."It's important because being in office presents a role model, a symbol. It says: 'if they can do it, I can do it'."
This is why Trump and alt-right allies like radio show host Alex Jones are using every weapon in their arsenal to make it more difficult. Jones has been peddling a fake Harris quote to suggest she is hell-bent on vengeance.
"And once Trump's gone and we have regained our rightful place in the White House, look out if you supported him and endorsed his actions, because we'll be coming for you next," are the words Harris didn't say.
These tactics are par for the course, particularly where women and black people are concerned. But Harvey believes a Biden/Harris win would spark a shift in attitudes.
"Once you have a woman of colour in one of the top two positions, things will gradually start to change," he says.
Comments
 0 comments
Want to join the conversation? Please or to comment on this article.