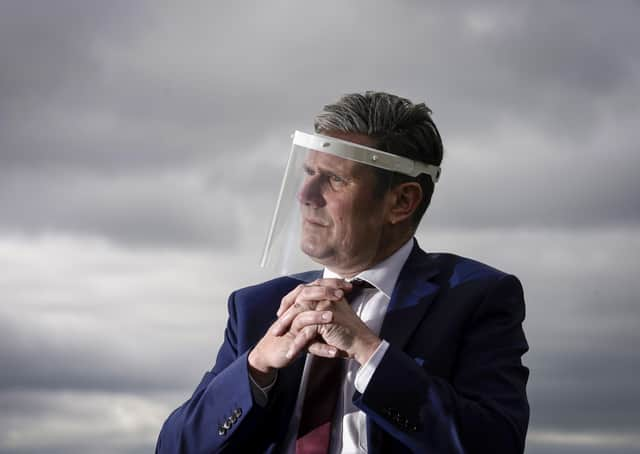 Writing in The Scotsman ahead of his first visit since becoming Labour leader, Sir Keir demanded both governments work together to tackle the virus and warned they must stop getting distracted by constant rowing over the constitution.
Visiting a research facility in Edinburgh today, the QC also admitted Labour has a "mountain" to climb ahead of the Scottish elections on 6 May 2021.
Scottish Labour is currently languishing in third in the polls and is facing another disastrous night for its MSPs next year.
Last week party rebels tried and failed to force a motion of no confidence in the Scottish Labour leader Richard Leonard.
In a landmark intervention, just one day after his child tested negative for coronavirus, Sir Keir demanded the four nations pull together and focus on keeping people safe.
He said: "The number one priority for governments across the United Kingdom must be protecting people's lives and livelihoods.
"Yet in the middle of a global pandemic, the Tories are still banging on about Brexit and the SNP, by their own admission, are still prioritising independence.
"Rather than acknowledging the deep problems with their response to the virus, like the current testing fiasco or the crisis in our care homes, they are dodging blame and attacking each other."
Earlier this month Nicola Sturgeon announced in her Programme for Government that she would lay down a draft independence bill before the 2021 elections.
The First Minister has been repeatedly accused of pre-empting announcements by the UK government, while the SNP has criticised Westminster for failing to communicate with the devolved nations.
Tensions continued to escalate yesterday in a fiery Prime Minister's Questions that saw the SNP's Westminster leader Ian Blackford accuse the Prime Minister of breaking the "failing Union" with his Internal Market Bill.
On Tuesday, Scotland's constitution secretary, Mike Russell, claimed relations between the two administrations had utterly collapsed.
Now Sir Keir has accused both governments of looking for excuses and letting the people of Scotland down.
He said: "As we have seen with the recent blame-game over testing in Scotland, if governments are going to spend their time fighting each other there is only one loser, and that's the Scottish people.
"So I say to both governments: get a grip, focus on the job in hand and work together to defeat this virus.
"At this crucial time, we cannot have a situation where the four nations of the UK are pulling in different directions".
Sir Keir also admitted the pandemic had exposed a series of areas where Scotland had been left behind, and vowed Labour would not allow "business as usual" after the pandemic.
He said: "Coronavirus has lifted a curtain on many of the inequalities and fragilities which still exist within Scotland. When we emerge – which we will – we need to have learnt the lessons. There can be no going back to the status quo."
The former head of prosecutions in England also insisted Labour was not a spent force in Scotland, despite a plummeting vote share and embattled leadership.
He said: "I am here with a very clear message: Labour's history and values run proudly through Scotland – and always will. Scotland is deeply important to me and to the Labour Party. I am in no doubt that we have a mountain to climb, both at the next UK general election and next year's Holyrood elections.
"But I am confident of the platform Labour will enter those elections on.
"The Labour Party I lead, with Scottish Labour, will speak up for the people of Scotland, whether that is in Holyrood or in Westminster."