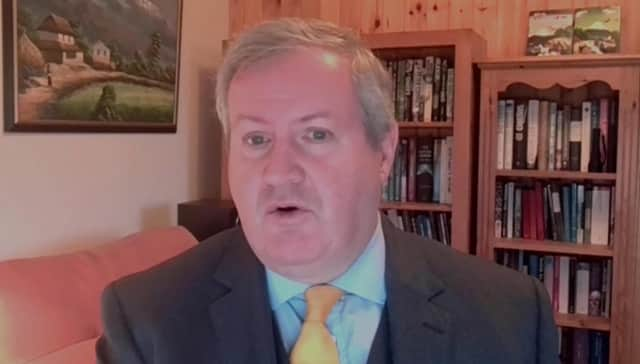 The SNP Westminster leader cited research from the Joseph Rowntree Foundation and the baby bank charity Little Village, which showed 1.3 million children under five are living in poverty in the UK.
Speaking during Prime Minister's Questions on Thursday, Mr Blackford called for the Prime Minister to extend the temporary £20 uplift and help reverse the "crisis".
He said: "That is a truly shocking figure that should make this Tory government utterly ashamed.
"The Prime Minister has the power to tackle child poverty, right now, by making the £20 uplift to Universal Credit permanent and extending it to legacy benefits.
"The Tories have been stalling on this for months. Will the Prime Minister finally act – or will he leave millions of children out in the cold?"
Mr Johnson insisted the UK Government was helping not just with Universal Credit, but had consistently offered support for things such as food as heating bills.
He said: "I think the whole house and this country should be proud of the way we have tried to look after people.
"We will put our arms around the people of this entire country throughout this entire pandemic."
The Ross, Skye and Lochaber MP labelled his response "pathetic and no answer", and raised the example of Emilie, a baby bank worker he met with supporting the less fortunate.
Mr Blackford continued: "They don't need more empty words from a Prime Minister who doesn't care enough to act.
"Will the Prime Minister agree to meet with me, and the other opposition parties, ahead of the budget for an urgent summit on tackling child poverty – or will he be yet another Tory Prime Minister who leaves a generation of children languishing in poverty?"
The Prime Minister rejected his criticism and accused the SNP of being "left wing".
He said: "I don't believe any Government could have done more to help the people of this country".
"Of course we bitterly lament and reject the poverty that some families unquestionably suffer, and it is tragic that some families have had a very tough time during this pandemic."
If you haven't already, please consider supporting our trusted, fact-checked journalism by taking out a digital subscription.