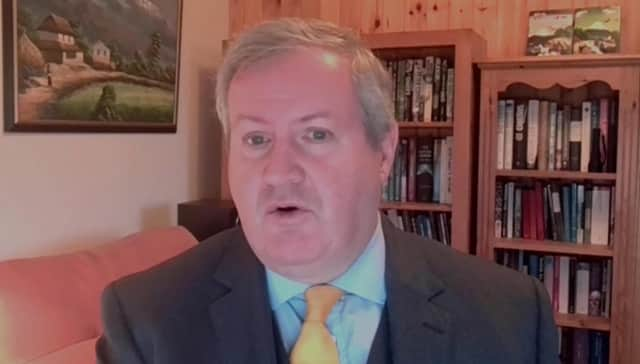 The SNP Westminster leader today hit out at the Prime Minister's deal, and warned Scottish businesses were already being hit financially as a result.
Speaking during PMQs, he revealed it had already impacted one of his own constituents.
He told the Commons: "My constituent in Lochaber, a producer and exporter of shellfish, is experiencing his worst nightmare. After loading a lorry of fresh local seafood on Monday, as he's done for 35 years, his driver faced bureaucracy and delays.
"Brexit red tape now means that £40,000 of his fresh, high quality produce is lost, unable to be sold. That £40,000 produce is income for over 100 local families in many remote and fragile communities.
"Can the Prime Minister tell my constituent where is the sea of opportunity that he and his Scottish Tories promised?"
Boris Johnson dismissed his claims, insisting support was in place.
He responded: "Well, we're putting £100 million into supporting the fishing industry in Scotland and across the whole of the UK.
"It is the policy of the Scottish nationalist party not just to break up the United Kingdom under their hare-brained scheme, but also to take Scotland back into the EU and hand back control of Scottish fisheries to Brussels, thereby throwing away all those opportunities."
It came during a Commons session that also saw Mr Blackford demand more support for businesses following the UK's exit from the EU.
He said: "The European Union have put in place a £5 billion fund to support businesses with the cost of Brexit and last night it was revealed that Ireland is receiving £1 billion of it.
"Can the Prime Minister tell Scottish business when they will be getting the same level of support and where's the compensation for my constituent that's losing £40,000 today?"
Mr Johnson claimed more money was coming from Brexit, and warned independence would make things harder.
He added: "(Mr Blackford) continually advocates the break-up of the union with the United Kingdom and he continually advocates going back into the European Union, even though that would be immensely destructive to the Scottish economy, to jobs, to livelihoods, to pensions, to the currency."
If you haven't already, please consider supporting our trusted, fact-checked journalism by taking out a digital subscription.