The Ross, Skye and Lochaber MP's comments have now been labelled "wholly irresponsible" by Douglas Ross, who accused the SNP of hypocrisy.
The Scottish Conservative leader demanded Mr Blackford's party focus on battling coronavirus instead.
He said: "The First Minister's team claimed this week that it was irresponsible to try to remove her in the middle of a pandemic, despite all she's done wrong.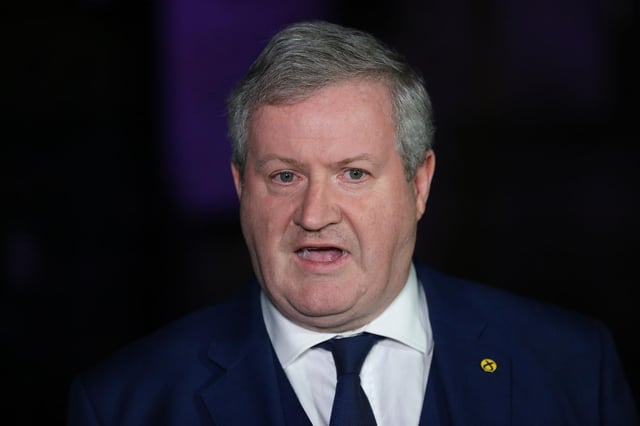 SNP Westminster leader Ian Blackford has faced criticism over his comments on a second independence vote
"There is nothing more reckless and wholly irresponsible than pushing for another referendum as early as this year, when all our efforts should be on tackling Covid-19 and protecting jobs.
"We need to focus on the current crisis, not create a whole new one with another divisive referendum.
"The health crisis may soon be over thanks to the resounding success of Scotland and the UK's vaccine scheme, but the next great challenge – the economic crisis – is still to come.
"We need a Scottish Parliament 100 per cent focused on dealing with that looming jobs and economic crisis. We must focus on rebuilding Scotland, not another divisive referendum."
His comments were also criticised by Liberal Democrat MP Alistair Carmichael, who suggested Mr Blackford was distracted by party infighting.
The Orkney and Shetland MP said: "Mr Blackford may have been too busy with the SNP civil war to notice, but we are currently in the middle of a global pandemic.
"Recovery has got to be the first and only priority of the next Scottish Government.
"This is proof, if proof were needed, that nothing will ever matter to the SNP as much as independence – not health, not education, not people's livelihoods.
"Scotland needs representatives who will put recovery first and give us all a break from the divisive politics."
Pamela Nash, chief executive of Scotland in Union, branded the comments "astonishingly reckless".
She said: "While people are losing their lives and livelihoods, the entire focus should be on recovery from the pandemic.
"Unfortunately, it's clear that Ian Blackford and the SNP are more interested in dividing the people of Scotland."
The comments come after the SNP's Westminster leader suggested there were circumstances which would allow for an independence vote to be held.
Mr Blackford said: "But of course we've got to get the election out the way, we need to make sure that the SNP are elected back into government again, that we reinforce that mandate for a referendum.
"There's a Bill that will be published over the coming weeks and that can be enacted once we're on the other side of the election.
"Of course what I would say is that the first priority of the Government is dealing with the Covid crisis. It's about keeping people safe, it's about the acceleration that we've seen with the vaccine programme, it's about taking off the measures of lockdown as and when we can.
"But we do that based on data, we do that based on evidence, we do that based on keeping people safe.
"[Scottish Constitution secretary Mike Russell] has talked about a six-month period once the legislation is triggered which could be in June, so it could be the case we could face a referendum as early as late 2021."
If you haven't already, please consider supporting our trusted, fact-checked journalism by taking out a digital subscription.