Humza Yousaf to make announcement on gender reform legal challenge 'imminently'
Humza Yousaf has signalled he still intends to launch a court battle with the UK Government over Scotland's controversial gender reforms.
The new First Minister said he had been having "intense conversations" about the matter and would be making an announcement "imminently".
MSPs passed the Gender Recognition Reform (Scotland) Bill by 86 votes to 39 before Christmas, approving reforms which would allow trans people to obtain a gender recognition certificate (GRC) without the need for a medical diagnosis.
The legislation would also allow 16 and 17-year-olds to apply for a GRC for the first time, and would reduce the amount of time a person has to live in their acquired gender before they can be granted the document.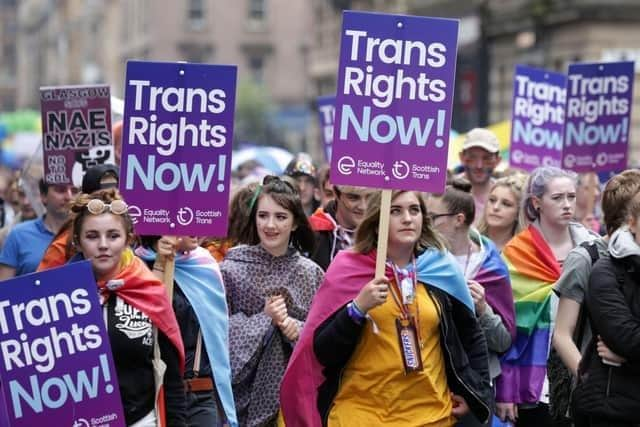 However, the move sparked huge controversy, with concerns from some politicians, women's rights groups and others the changes could impact on safe spaces for females.
The UK Government blocked the Bill earlier this year using a section 35 order – a never-before-utilised section of the 1998 Scotland Act – to prevent it from gaining royal assent.
It argued the legislation "would have an adverse impact on the operation of Great Britain-wide equalities legislation". Former first minister Nicola Sturgeon called this a "full-frontal attack on our democratically-elected Scottish Parliament and its ability to make its own decisions on devolved matters".
Mr Yousaf made challenging the UK Government's decision a key part of his leadership pitch. However, he also said he would follow legal advice.
The Scottish Government has until Monday, April 17 – the week Holyrood returns from its Easter recess – to decide if it will launch a judicial review.
Asked if the Government would launch a legal action ahead of this deadline, Mr Yousaf said: "I made it abundantly clear throughout the course of the leadership contest that my starting principle is to challenge the Westminster veto over the GRR Bill. You can imagine, of course, I've been having intense conversations in that regard, and I'll be making an announcement on the potential challenge of the section 35 order imminently given that deadline."
Elsewhere, Mr Yousaf insisted he was "absolutely committed" to the power-sharing agreement between the SNP and the Scottish Greens.
He said: "There's a review mechanism, I think, within the Bute House Agreement, and no doubt we will keep the Bute House Agreement under pretty regular review. But I'm absolutely committed to it." He said the party membership had voted to endorse it.
Speaking during the leadership contest, Mr Yousaf said the "first principle" should be to "challenge a Westminster veto on our legislation". But he added: "A first minister has to act on the legal advice that they are given – that almost goes without saying.
"If the legal advice is that there is simply no stateable case whatsoever, then of course that would have to be taken into consideration. But my starting principle has not changed. My starting principle is very much the case that we should challenge that section 35 order."
Mr Yousaf's rivals in the race, Kate Forbes and Ash Regan, were both critical of the gender reforms.
Comments
 0 comments
Want to join the conversation? Please or to comment on this article.