Humza Yousaf to investigate estimated £300m overspend on Barlinnie prison replacement
An estimated £300 million overspend to replace HMP Barlinnie prison will be investigated, First Minister Humza Yousaf has pledged.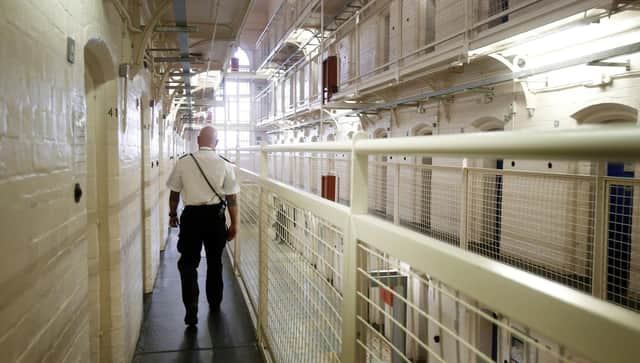 The state-of-the-art construction of HMP Glasgow, the replacement for the notorious prison, was initially projected to cost taxpayers £100 million.
However, the Scottish Government's infrastructure plan up to 2025/26 has said the new £400 million cost will be "updated following full business case and procurement".
Work on the prison is expected to begin in September, with an operational opening date marked for September 2026.
At First Minister's Questions on Thursday, Scottish Labour leader Anas Sarwar urged the First Minister to commit to an audit into the capital programme as a new prison in the Highlands is also expected to cost around £140 million, a steep increase from its projected £52 million in 2011.
He said the Scottish Government's "failure in managing the public's finances" was a result of "failed interventions, waste and incompetence".
Mr Yousaf committed to investigating the expected overspend, with a view to bring the costs down.
However, he said increased construction costs were not unexpected due to the volatile market.
He said: "We are looking at the cost overruns, we are seeing what can be done to mitigate those cost overruns.
"I think we all agree in relation to the fact that our Barlinnie is not in the conditions that any of us would like it to be."
He added: "Of course construction costs have increased for a whole number of reasons, partly to do with the UK Government's complete mismanagement of the economy, but also to do with some global factors as well.
"We know the war against Ukraine, the illegal invasion by Russia, has also affected construction costs.
"But to give him a direct answer to this question, those costs overruns are being interrogated and we'll do everything we can to bring them down."
Mr Sarwar dismissed the First Minister's reasons for the increased costs. He said: "This is a 300% increase in costs. Inflation is running at 10%.
"Even an SNP treasurer can tell you those figures don't add up.
"Because Scotland's prison estate is in a dire condition."
"In fact, I all five major capital programmes in the criminal justice system, all are running over budget," he added.
"If the First Minister truly believes in transparency, will he commit opening up the books and would he welcome an Audit Scotland review into these projects so we can understand why costs are running out of control?"
Mr Yousaf told Mr Sarwar: "You can bet your bottom dollar that they will be interrogated because of course, we are absolutely in really challenging financial circumstances."
It is understood Barlinnie's replacement will include a reduction in the size of the housing blocks from 30 to 20, and will see football pitches and en suite cells introduced.