Humza Yousaf: There is no shortcut or wheeze for achieving independence
The First Minister said he will not 'pull a rabbit out the hat' at the SNP's convention this weekend
There is no "shortcut or wheeze" for achieving independence, Humza Yousaf has said, as he stressed he will not pull a "rabbit out the hat" at the SNP's convention this weekend.
The First Minister also confirmed he will not set out a timeline for securing independence as he addresses delegates at a special party conference in Dundee.
However, he said he will set out his own preferred strategy, including how to use the next general election to "advance our cause".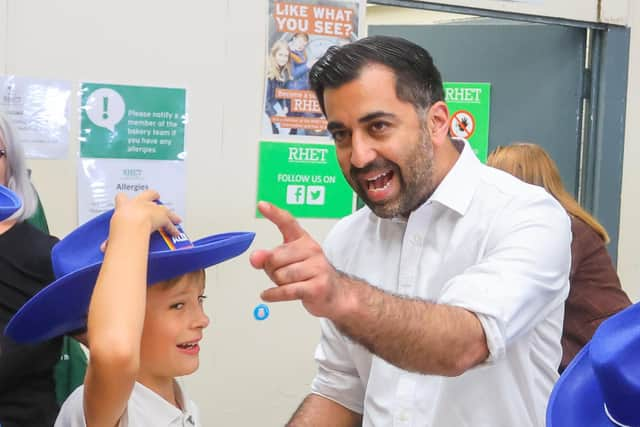 Mr Yousaf said the independence convention will also be an opportunity to pay tribute to Winnie Ewing, the SNP icon who has died aged 93.
He spoke to journalists at the Royal Highland Show near Edinburgh, where he launched a strategy that aims to increase turnover for Scotland's food and drink sector by 25 per cent by 2028.
The First Minister said: "I'll be laying out what I think we have to do as a party and as a movement to advance our cause, but also I'll be listening to the contributions that our members will be making too."
Asked if a timeline will be set out, he said: "No, because of course what I will say very, very clearly is that when it comes to the next national test of the proposition of independence, it's likely to be the general election. We don't have a date on that general election yet, but I can tell you this much – independence will be front and centre when it comes to the campaign for that general election from the SNP."
Mr Yousaf refused to say if the election would be treated as a de facto referendum. This was the plan previously advanced by Nicola Sturgeon before she resigned as first minister in February. Mr Yousaf has previously been unenthusiastic about the proposal, preferring instead to focus on building support for independence.
Asked if the SNP had run out of road, and whether the truth is there is no short-term strategy or wheeze that can achieve independence, Mr Yousaf said: "There's definitely no shortcut or wheeze. The reason for that is, of course, that the UK Government continues to deny our democratic right – our democratic right to an independence referendum, to that legally-binding referendum.
"So as long as they continue to deny that, what we have to do, from the SNP and the broader Yes movement, is pile on the pressure, the power of the people.
"So there isn't a wheeze, there isn't a rabbit I'm going to pull out the hat tomorrow. I've said that very clearly all along. I will, of course, articulate what I think the strategy should be moving forward."
Asked if his strategy is simply building support, Mr Yousaf said: "No, I think there's more to that. I will outline tomorrow, again without going into the detail of it, how we will use the general election to advance our cause. We have to do that. That is the next test of the proposition of independence. We have to make sure we're mobilising people behind that cause."
Elsewhere, the First Minister indicated a decision on whether to remove the party whip from Fergus Ewing will be delayed following the death of his mother, Winnie. Mr Ewing, a former SNP minister who now sits as a backbencher, had been facing action after voting for a no confidence motion in Lorna Slater, the Green minister, which was tabled by the Conservatives.
Mr Yousaf said: "Fergus's mum just died. I think we should let Fergus grieve. I spoke to him yesterday and passed on my condolences to Fergus. I'm not going to talk about disciplining an individual who lost his mum 24 hours ago."
Opposition politicians criticised the SNP's decision to hold the independence convention on Saturday.
Conservative MSP Donald Cameron MSP said: "This convention shows the SNP will always prefer to push their independence obsession rather than focusing on Scotland's real priorities.
"Humza Yousaf and other senior SNP figures are throwing red meat to grassroots nationalists to deflect from their overwhelming failures and the chaos engulfing the party. During a global cost-of-living crisis, it is shameful the SNP are spending taxpayers money campaigning for independence and talking among themselves."
Scottish Labour deputy leader Jackie Baillie said "As Scots struggle with the consequences of the SNP's disastrous incompetence in government, they are busy talking to themselves about themselves.
"In the last week alone we've seen Circularity Scotland collapse, mortgage costs spiral, and key targets being missed – but all of that comes second for Humza Yousaf and his government. They are completely out of touch with Scotland's priorities and distracted by their constitutional obsession."
Scottish Liberal Democrat leader Alex Cole-Hamilton said: "In normal times if the SNP were to hold a conference dedicated to breaking up the UK, I would say they were misguided and beg them to focus on schools, ferries and the sewage pouring into our rivers. With one in seven Scots on an NHS waiting list and mortgage holders facing unprecedented rises it is starting to look dangerously negligent.
"Rather than attempting to appease a small band of zealots desperate to believe that the break-up of the UK is just around the corner, Humza Yousaf should show some leadership and tell them that independence is not happening anytime soon and that his government needs to focus on the cost-of-living crisis and the state of the NHS."
Comments
 0 comments
Want to join the conversation? Please or to comment on this article.