Humza Yousaf reveals he 'cannot sleep' as parents-in-law trapped in Gaza
The First Minister said he and his wife 'cannot sleep' from worry
Humza Yousaf has said his in-laws are trapped in Gaza and he does not know whether they will make it through the night.
The First Minister, whose wife Nadia El-Nakla is Palestinian, said his mother-in-law and father-in-law have been unable to secure safe passage after visiting a relative.
He unequivocally condemned the surprise attack by Hamas fighters at the weekend. Around 700 people, including 73 soldiers, have been killed in Israel, according to Israeli media outlets. The Gaza Health Ministry said 493 people, including 78 children and 41 women, were killed in the territory.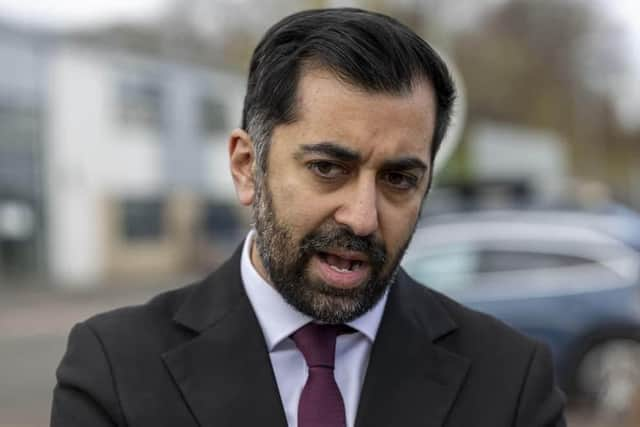 Israel's military ordered a complete siege on the Gaza Strip on Monday, halting entry of food, fuel and supplies to its 2.3 million people as it pounded the Hamas-ruled territory with waves of air strikes in retaliation for the militants' bloody incursion.
Speaking to journalists, Mr Yousaf said: "It's horrific to see innocent lives lost, whether those innocent lives are Israeli or the innocent lives of Palestinians being lost. It is heartbreaking to see.
"As many will know, my wife is Palestinian. Her mum and dad, my in-laws, who live in Dundee, live in Scotland, they've been in Gaza and are currently trapped in Gaza, I'm afraid. My father-in-law went to visit his 92-year-old elderly and frail mother. We've been on the phone to them over the last 48, 72 hours and they're trapped.
"They're being told by the Israeli authorities to leave Gaza, because Gaza will effectively be obliterated, but they've got nowhere to go. And despite the best efforts of the British Foreign Office, nobody can guarantee them safe passage anywhere.
"So I'm in a situation where frankly, night by night, day by day, we don't know whether or not my mother-in-law and father-in-law, who have nothing to do – as most Gazans don't – with Hamas, or with any terror attack, whether they'll make it through the night or not."
The First Minister added: "We cannot sleep – we are constantly watching our phones. When our messages do get through, we're waiting for a reply."
He said: "I'm worried about my family – there will be many people, including in Scotland's Jewish community for example, who will be really worried about their family in Israel that have come to harm.
"My thoughts go out to everybody, because innocent civilians have nothing to do with the conflict, they have nothing to do with Hamas terror, have nothing to do with the loss of life and they're the ones often – innocent people – who are paying the price."
Elsewhere, Mr Yousaf said he does not know how many Scots have been caught up in the fighting in Israel and Gaza. He praised communications with the Foreign Office as "good", but said it was not yet clear who was in the region and how they've been impacted.
He said: "I'm afraid not yet. I've asked both for the situations in terms of any Scottish Israelis that might effected and impacted and any Scots in Gaza that might be impacted.
"I've not got numbers yet but liaison with the Foreign Office, I should say, is good, they've been helpful in providing information but once I have that I'm sure we'll be able to furnish you with the details."
Comments
 0 comments
Want to join the conversation? Please or to comment on this article.