Humza Yousaf rejects Liberal Democrat demand for investigation into Scotland renewable statistic scandal
The First Minister corrected the record after falsely claiming Scotland had the majority of the UK's renewables and energy resources.
Humza Yousaf has rejected demands from the Scottish Liberal Democrats to refer himself to the independent investigator on the ministerial code for having "reverse engineered" a renewable energy statistic.
The First Minister came under pressure after falsely claiming Scotland has the majority of the UK's renewables and energy resources.
He later corrected this to "per capita", but freedom of information disclosures showed civil servants spent week coming up with a figure the SNP leader went on to claim he had always "intended" to say.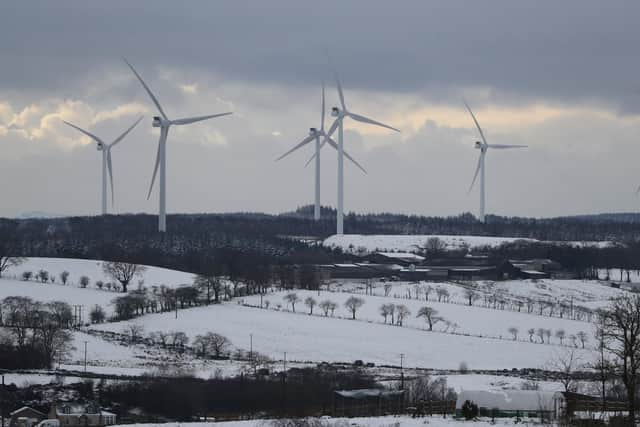 It comes after the Scottish Government admitted it had misled the public for years about the scale of Scotland's renewable energy potential.
Ministers had repeatedly claimed Scotland held 25 per cent of Europe's offshore wind potential, but were forced to admit the true figure is closer to seven per cent after pro-union think tank, These Islands, found evidence the misleading nature of the statistic was known to ministers for months.
Scottish Liberal Democrat leader, Alex Cole-Hamilton, demanded Mr Yousaf announce an immediate investigation into whether the SNP leader's use of civil servant time to engineer a statistic to be used to correct the record constituted a breach of the ministerial code.
However, Mr Yousaf rejected the call and said he considers the matter "closed".
In a letter to Mr Cole-Hamilton, the First Minister said: "I have concluded that there is no substance to your claims and I do not intend to refer myself to my independent advisers.
"My intention at First Minister's Questions on 22 June was to say "per capita" in relation to Scotland's share of the UK's renewables and natural resources. That is borne out by my request to have the Parliamentary record corrected.
"The Office of the Chief Economic Adviser has confirmed that the per capita figure is a fact: it is not something that could be fabricated by officials either retrospectively or otherwise. As such, there is no evidence to support the claim that I may have misled Parliament and consequently been in breach of the Scottish Ministerial Code.
"I believe that matters should only be referred to my independent advisers when there are sufficient grounds for a meaningful investigation, when their conclusions could usefully inform my deliberations. I do not think that asking them to review your complaint would be a good use of their time, nor do I believe it would reveal any meaningful new insights."
"I therefore consider this matter to be closed."
Mr Cole-Hamilton said this was "extremely disappointing".
He added: "His original claim to Parliament was simply false. His revision - calculating Scotland's energy potential on a 'per capita' basis - is an exercise in secrecy and statistical gymnastics. It's designed to confuse and deflect.
"We live in a country with enormous renewables potential, but the SNP do that an disservice by dishing out one dodgy statistic after another.
"To make matters worse, the Scottish Government treated questions with a real lack of transparency, breaching freedom of information laws by refusing to release key details about how this dodgy statistic was dreamt up.
"People deserve ministers who care about accountability and transparency, but that doesn't seem to be on offer from the SNP."
A Scottish Government spokesperson said: "The First Minister has clarified that, during First Minister's Questions on 22 June, his intention was to say that Scotland has the majority of renewables per capita in the UK. The First Minister requested advice from Scottish Government officials to correct the official record to this effect and they confirmed that the revised statement was supported by available data. It is a matter of fact that Scotland has the majority of renewables per capita in the UK. FOI and EIR responses are issued in line with the relevant Acts and Scottish Ministers remain committed to transparency."
Comments
 0 comments
Want to join the conversation? Please or to comment on this article.