Humza Yousaf leadership: What the SNP leader said and what he meant in speech as he was voted in as new First Minister
Humza Yousaf spoke for around ten minutes after receiving the formal parliamentary nomination to become Scotland's next First Minister, but what did he say and what did he mean?
"There was a time not that long ago when I felt I simply did not belong here."
During his speech in front of MSPs, Mr Yousaf referenced his background both as a Muslim and as someone from an ethnic minority background repeatedly, but it was this section of his contribution that was most moving.
This is a man – like his opponent, Scottish Labour leader Anas Sarwar – who has received hideous racist abuse during his time as a frontline politician. But he made it clear this was something that went back decades, to at least the days of 9/11 when being Muslim was as difficult as ever.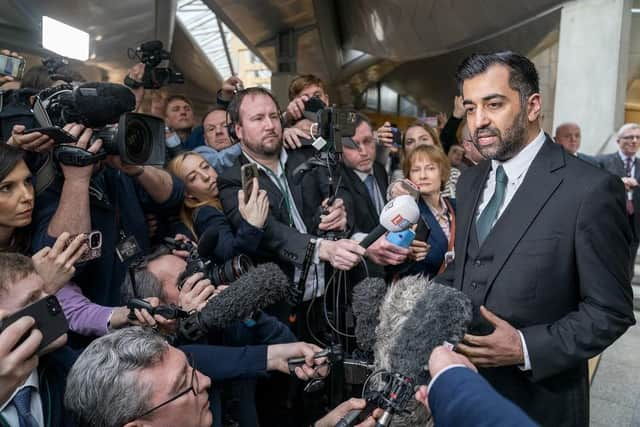 He also referenced the fact his "loyalty" to Scotland had been questioned over the years, and made an impassioned plea for those from diverse backgrounds to use his election as a demonstration they can do anything and that they belong.
This was also a part of his speech where he committed to advancing the rights of those who suffer marginalisation, making pointed references to immigrants, transgender identity and sexual orientation. "This is your home and don't let anyone ever tell you that you do not belong," he said.
It underlined the historic moment that is the first ethnic minority First Minister, the first Muslim First Minister, a moment that many from similar backgrounds in Scotland will and should be inspired by.
"Donald Dewar emphasised, and I quote, 'the common aims that we shared across this chamber of giving people a better life and a better future'."
During both his victory speech in Murrayfield where he quoted the Labour legend, John Smith, and in his acceptance speech in Holyrood where he quoted Donald Dewar, Mr Yousaf has made a concerted effort to reference Labour stalwarts.
This suggests he, at the very least, understands the greatest threat to the SNP's future as a party of government, that of Scottish Labour, but also indicates how he may approach leading Scotland.
Throughout his speech he said he wants to work with other parties when possible in the "best interests of Scotland", a plea that will take some living up to.
But if he succeeds in changing the approach of the Scottish Government from an insular, secretive operation to one that prioritises cross-party and consensus building policy-making, Mr Sarwar's mountain to climb to become the next First Minister will get ever steeper.
Shifting into such a sphere would weaken the demands for change from Scottish Labour and the overall narrative the current government is not working for Scotland, especially if he takes Scottish Labour along with him on key policies.
This is likely Mr Yousaf's biggest challenge. Can he dull the sword of Mr Sarwar by bringing him onside at critical moments? It feels unlikely after the last 15 years of SNP Government, but what is clear is who the new SNP leader wants to reach out to and that is squarely Labour voters.
"I will be very proud to build on the record of the Government that has been led by Nicola Sturgeon and John Swinney."
"Continuity won't cut it" became the slogan of the Kate Forbes leadership campaign, a barb that stung the establishment SNP so much that it is now a go-to favourite of former first minister Alex Salmond, Douglas Ross and Alex Cole-Hamilton.
Mr Yousaf also faces the accusation of being a "pale imitation" of what came before him, something he himself appeared to accept during the leadership contest.
This line reiterates that for Mr Yousaf, the record of the SNP Government under his predecessor, is far from one of failure or of incompetence as suggested by his opponents over the past five weeks.
Instead he will hope to use his time in government under their leadership to convince people he is the man for the job. That feels an uphill struggle given his record in some of Scotland's toughest jobs.
"I will also continue, as they did, to argue tirelessly for independence."
It would not be an SNP leader speech if there was not a reference to independence, and towards the bottom of his speech Mr Yousaf eventually managed to squeeze in a reference or two to his party's overarching political goal.
Despite Scotland's divided nature on the constitution, this is yet more red meat for the SNP faithful. However, rather than use a more combative word such as "fight", it is notable he chose the word "argue".
Mr Yousaf's strategy on independence effectively boils down to making the case for it and hoping that support rises to around 60 per cent, potentially sparking a referendum and a victory.
He also chose to state that using the powers of the Scottish Parliament to their most effective was also the best way to convince opponents of the benefits of independence, and said it was clear tackling the priorities of the Scottish people would be less effective if the section 35 'veto' order, used for the first time with Holyrood's gender reforms, went unchallenged.
It suggests a belief that fighting for Scotland through the Scottish Parliament, as was the approach of Mr Salmond and Nicola Sturgeon before him, remains the most efficient way forward.
Whether his time as First Minister will be defined by a return of gradualism, and in doing so ditching the false promises of the late Sturgeon era, remains to be seen.
Want to hear more from The Scotsman's politics team? Check out the latest episode of our political podcast, The Steamie.
Comments
 0 comments
Want to join the conversation? Please or to comment on this article.