Humza Yousaf hints at potential move away from presumption against new North Sea oil and gas
The government's draft energy strategy includes a presumption against new exploration.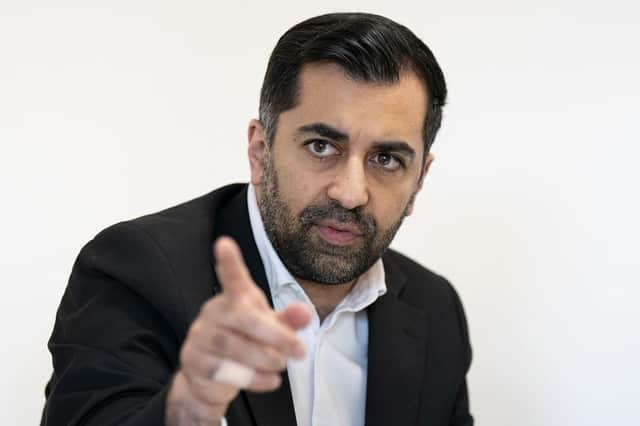 Humza Yousaf has indicated a potential move away from the Scottish Government position of a presumption against new oil and gas exploration after he said he would not leave workers in the sector on the "scrapheap".
The First Minister was speaking at the All Energy conference at the SEC in Glasgow in front of a watching crowd of energy industry bigwigs.
This included chief executive of Scottish Power, Keith Anderson, who criticised the government's policies around planning for offshore wind and demanded a focus on speed of development.
However, asked by journalists about the proposed Rosebank oil field, west of the Shetland Islands, which is expected to produce 300 million barrels of oil, Mr Yousaf refused to call for it to be halted.
He said: "I don't think that you should extract any oil if there is not a good reason to do so and those are to make sure first and foremost that we are meeting our climate change obligations.
"Secondly in relation to energy security which is not just a domestic matter as we've seen in terms of the war against Ukraine it is a global matter, but also how does it help us in relation to that just transition.
"We know we can't just turn off the taps tomorrow, neither would we want to, because that would have a serious impact on the economy and the jobs of the north east in particular."
He also hinted at a potential shift away from the presumption of no new exploration of oil and gas in the government's draft energy strategy.
Former Net Zero secretary, Michael Matheson, had told MSPs there was a "a presumption of no new exploration in the North Sea."
The strategy was initially due to be published in spring last year but has suffered repeated delays.
Pressed on why he wasn't being clearer about his opposition, or not, to Rosebank, given the presumption of no new exploration in the draft strategy, Mr Yousaf said pointedly that "it is a draft energy strategy."
He added: "The consultation has just closed, we had more than 1,500 responses to it.
"So I'll ensure I'll give you an update when we see the finalised strategy in due course."
Speaking to delegates in his keynote speech, he committed to not abandoning those working in the energy sector now and reiterated his support for a just transition.
The First Minister said: "From the government that I lead, we will not abandon those in the oil and gas industry now, in the way that I'm afraid UK Governments abandoned coalminers and industrial workers in the seventies and eighties. There is a reason we call it a Just Transition
"There is nothing just, nothing progressive, about throwing workers on the scrapheap, plunging them and their families potentially into poverty.
"And that's why the work that a number of our key partners are doing, a number of those in the offshore industry, a number of those in the oil and gas sector, in relation to decarbonising, to ensuring we have the skills to shift from fossil fuels, to of course the green economy, is work that we fully support in it's entirety."
Want to hear more from The Scotsman's politics team? Check out the latest episode of our political podcast, The Steamie.
Comments
 0 comments
Want to join the conversation? Please or to comment on this article.