Humza Yousaf denies misleading Scottish Parliament over Covid WhatsApps
The Scottish Conservatives said the First Minister has been 'caught red-handed in a cover-up'
Humza Yousaf has denied misleading the Scottish Parliament over the release of WhatsApp messages to the UK Covid inquiry.
Scottish Conservative leader Douglas Ross said the First Minister and his deputy, Shona Robison, had been "caught red-handed in a cover-up". It comes amid a growing row over the Scottish Government's "secretive" dealings with the inquiry and the release of WhatsApp messages sent during the pandemic.
A timeline published by the Government on Wednesday evening – at the request of the UK inquiry – appeared to conflict with previous statements.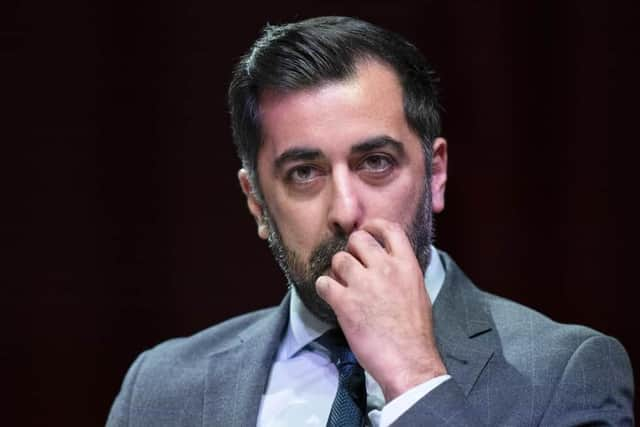 Last week, Mr Yousaf told MSPs the inquiry only asked for WhatsApp messages to be handed over in September, "just a matter of weeks ago". Ms Robison had also referred to September in a Holyrood statement. However, the timeline shows messages were requested in February.
The Government was previously criticised for failing to hand over WhatsApps to the inquiry, but has now provided 14,000 messages following a legal order.
Speaking during First Minister's Questions in Holyrood, Mr Ross said: "The two most senior people in the Scottish Government stated that the UK Covid inquiry only requested the messages in September. It wasn't a slip of the tongue. It wasn't an honest mistake. It was deliberate."
He accused Mr Yousaf of treating both Holyrood and grieving families "with contempt".
Mr Ross added: "They have been caught red-handed in a cover-up. They knowingly told this chamber statements that were false. Isn't it beyond doubt that Humza Yousaf and Shona Robison misled this Parliament?"
Mr Yousaf insisted this was "not the case". He said Ms Robison had mentioned there were "initial requests from the inquiry" in a previous statement in Holyrood.
However, he said: "What I absolutely fully accept is that as a Government we interpreted those requests too narrowly. What we have done to take corrective action is make sure we submitted 14,000 messages. What I have done, of course, is make sure that I have handed over the messages that I have in unredacted form."
He "apologised unreservedly" for "any shortcomings on our behalf" that had caused distress to bereaved families.
The First Minister repeatedly sought to compare his Government's actions with those of the UK Government and former prime minister Boris Johnson.
A spokesman for Mr Yousaf later confirmed he would not be referring himself to his independent adviser on the ministerial code.
Elsewhere, Scottish Labour leader Anas Sarwar accused the Scottish Government of "hiding" its pandemic legal advice from the inquiry.
In a note to the inquiry last month, lead counsel Jamie Dawson KC said a request had been made to the Scottish Government to waive legal privilege over advice given by law officers during the pandemic, but "no formal answer has been forthcoming to date". Mr Dawson said that, with hearings due to start early in the new year on the Scottish Government's handling of the pandemic, "we are fast approaching a point by which any advantage from such a waiver will be redundant".
Mr Sarwar said the "secrecy and evasion must stop".
Mr Yousaf confirmed redactions had been made due to issues around legal privilege, adding: "Therefore, of course, a discussion would have to take place with our law officers in relation to what can be unredacted. Where we can absolutely send information unredacted, it is my full expectation as the individual who leads the Government that the information is provided in full, in unredacted form."
His spokesman later said the Government is seeking an agreement with the inquiry to enable unredacted legal advice to be made available.
Comments
 0 comments
Want to join the conversation? Please or to comment on this article.