Humza Yousaf defends 'insulting' as a race hate crime in new Bill
The Justice Secretary has refused to define "abusive" in the new law, but said expressing opinions such as "transwomen are not women" would not be prosecuted.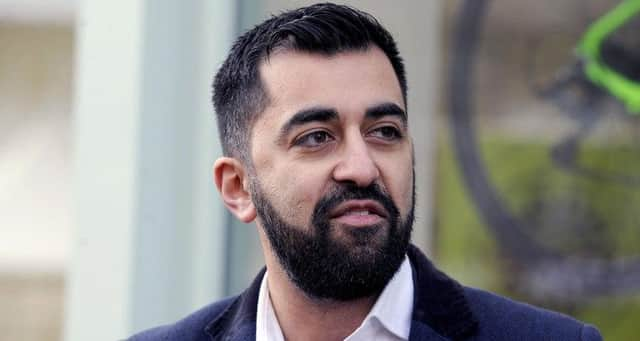 Humza Yousaf also told MSPs on Holyrood's justice committee on Tuesday that he was removing the section of the Bill that would have held theatre directors criminally responsible if a performer in a play was found to have stirred up hatred.
In a long session with the committee, the justice secretary was quizzed on the evidence presented by many organisations to the MSPs as they scrutinise the Hate Crime Bill.
Mr Yousaf has already agreed to amend the Bill to include "intent" as a threshold for prosecution in the new "stirring up hatred" offences. He yesterday said he would further amendments around theatre and religious freedom of expression.
"Section four on the performance of plays clearly sets out when directors and presenters of plays can be held criminally liable when a performer commits an offence of stirring up hatred, and I recognise the concerns expressed by the performing arts community that the provision appears to single them out and the anxiety that it has caused," he said.
"The evidence this committee heard has led me to conclude that section four can be removed from the Bill, and we also accept that neglect on the part of a presenter of plays is too low for a criminal sanction."
Committee convener, Scottish Conservative MSP Adam Tomkins, said witnesses had also told the committee more amendments would be required, including the use of the word "insulting" to be removed in reference to stirring up hate against different races.
However, Mr Yousaf said it would remain.
"I do think there's a justification for treating racial stirring up offences differently to other offences," he said. "That does go counter to a legal purist point of view and potentially causes a hierarchy, but I do think there's a justifiable case as two thirds of hate crime in Scotland is related to race.
"If we remove insulting, Scotland would be the only legal jurisdiction in the UK that would not have insulting as part of the legal threshold. Scotland would have the perception of having the weakest racial stirring up offence. When I talk to those most affected, it is significant they supported the retaining of the insulting element."
Mr Yousaf said the term had been in law since 1986 and had proven unproblematic for the police or Crown Office.
"If it hasn't presented an operational problem despite being a threshold for nearly 35 years, so why would it now? I don't disagree with the legal purity of the argument, that it may not take away from the Crown Service's ability to prosecute, but at the very least, among those targeted the most by racial crime, there would be a perception of a dilution, of a weakening of protections. In regards to people's everyday lived experience it could have a harmful effect.
"Public confidence in the law is hugely important and for those who've been protected under the law since 1986 if they perceive the law is being weakened in this regard, that perception alone could be damaging."
Pressed by Mr Tomkins on the need for a definition of what would be classed as "abusive" in the law, Mr Yousaf said it was already a "very familiar concept in Scottish criminal law".
"I'm not convinced there has to be a definition," he said.
"The ordinary meaning of the word is taken, but remember the second part of the Bill is a test of intent, so there's an additional safeguard there when it comes to the threshold."
Asked if the Bill could be used to criminalise the expression of the opinion that biological sex is immutable, Mr Yousaf said: "No, not as an opinion. It may be offensive to some, controversial to others, the mainstream view for many others, but simply expressing an opinion isn't itself criminal.
"If there's threatening behaviour which accompanies that expression and it can be proved beyond reasonable doubt that it was intended to stir up hatred, then of course it could be prosecuted, but that is not down to the perception of any particular victim, but an objective analysis by the court. By saying a transwoman is not a woman is not in itself going to lead to a prosecution."
Later Scottish Conservative shadow justice spokesman Liam Kerr said the Bill needed a "major overhaul".
He said: "The SNP seem to be U-turning, but at a snail's pace, even though this Bill has faced an avalanche of criticism from police officers, newspapers groups, churches, lawyers, academics and authors.
"As drafted, the Hate Crime Bill remains dangerously flawed and it could be tied up in the courts for years, just as we saw with Named Persons."
Jamie Gillies, spokesman for the Free to Disagree campaign, said while the amendments were welcome, "there is, however, some way to go before the concerns around free speech are resolved".
He said: "There is still no free speech clause on transgender identity – an issue that provokes heated debate in society today. There is no 'dwelling defence', protecting speech in the privacy of the family home. And the vague terms 'hatred', 'abuse' and 'inflammatory' remain undefined.
"Most importantly, the government has still not articulated what kind of speech and behaviour it intends to catch via the 'stirring up' offences that isn't already caught by existing laws. Unless they can answer this basic question, there is no justification for these offences, which risk undermining other, vital liberties."
A message from the Editor:Thank you for reading this article. We're more reliant on your support than ever as the shift in consumer habits brought about by Coronavirus impacts our advertisers.
If you haven't already, please consider supporting our trusted, fact-checked journalism by taking out a digital subscription.
Comments
Want to join the conversation? Please or to comment on this article.