Humza Yousaf announces Shona Robison as deputy and confirms role for Kate Forbes
Humza Yousaf has appointed Shona Robison to be his deputy as his confirmed he wants his former leadership rival Kate Forbes to serve in his government.
Mr Yousaf, the new First Minister and SNP leader, said he was "delighted" Ms Robison – who is one of his predecessor Nicola Sturgeon's closest friends – had agreed to the role.
It came as he opened up about the racism he had suffered as a teenager in Scotland after 9/11.
Addressing the Scottish Parliament after he was formally voted in as First Minister, he said: "There was a time not all that long ago when I felt I simply did not belong here in Scotland. To go from there to now leading the government as Scotland's sixth First Minister, I hope sends a strong message to every single person out there who feels that they don't belong."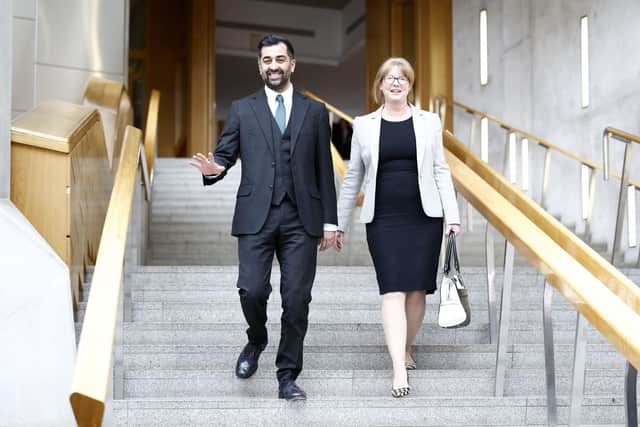 Speaking to journalists afterwards, he said: "I'm very pleased to tell you that Shona Robison has agreed to be my Deputy First Minister, which I'm delighted about, and she and I are just about to go up and finalise some of our Cabinet appointments and our government appointments."
Asked if he had spoken to Ms Forbes, he said: "I've already spoken to Kate Forbes yesterday. I absolutely want Kate Forbes to be part of the government."
Ms Forbes trashed Mr Yousaf's record in government during the bitter SNP leadership contest. But the former health secretary is now seeking to heal divisions as he takes over the leadership of the SNP.
Asked if he had offered Ash Regan, the third SNP leadership candidate, a job, Mr Yousaf simply said he had not spoken to her yet.
Ms Robison was a consistent face around the cabinet table under Ms Sturgeon, serving most recently as social justice secretary. Further Cabinet appointments will be made in the coming days and are due to be confirmed by MSPs on Thursday.
Ms Robison was a key member of Mr Yousaf's campaign team as he sought the SNP leadership, garnering praise in his acceptance speech on Monday.
Elsewhere, Mr Yousaf said he had a call set up with Prime Minister Rishi Sunak "very soon", adding: "Of course independence will be part of that conversation, as will many other important issues."
Asked what he will be saying about independence, Mr Yousaf said: "I'll be saying that the Westminster Government shouldn't be denying democracy. It shouldn't be denying the voice of the Scottish people. We have a mandate for a referendum, and I'll be putting that case forcefully to the Prime Minister."
Asked if he had spoken to Ms Sturgeon about becoming a global ambassador for independence, as he had floated during the leadership race, Mr Yousaf said: "Oh man, that's a conversation I still have to have. She and I, actually, have only had one phone call, yesterday, where she congratulated me on the result.
"We haven't had a chance to catch up, actually, which I'm looking forward to doing. She said to me something lovely, she said other than your wife and your mother, I will be the proudest person in that chamber when you are, hopefully, voted, as I have been, First Minister."
Comments
 0 comments
Want to join the conversation? Please or to comment on this article.