Humza Yousaf aims to tackle 'big issues' facing Scotland as he sets out policy agenda
The First Minister will publish his Programme for Government on Tuesday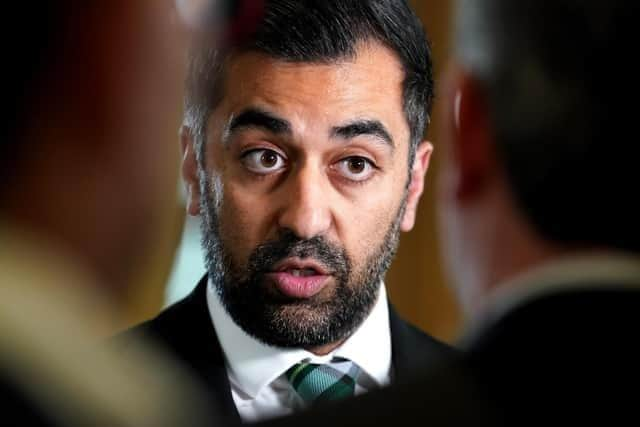 Humza Yousaf has pledged to put Scotland "on a path towards tackling some of the big issues facing the country" as he sets out his policy agenda for the year ahead.
The First Minister's Programme for Government, which will be published on Tuesday, will "ensure that responding to the climate crisis is at the heart of government, while also taking the next steps in reforming and modernising public services to help tackle the aftermath of the pandemic", the Scottish Government said.
It said investment will be prioritised on measures that help grow Scotland's economy, tackle poverty and deliver high quality public services.
Charities and trade union leaders urged Mr Yousaf to take concrete action to combat poverty, while the Conservatives urged him to ditch his "independence obsession" and focus on Scotland's "real priorities".
Chris Birt, associate director for Scotland at the Joseph Rowntree Foundation, which works to ease the toll of poverty, said the First Minister's policy programme should be ambitious but built on practical, effective measures. Mr Yousaf held an anti-poverty summit in Edinburgh in May, in which he called tackling poverty a "defining mission".
Mr Birt said: "It has only been 100 days or so since his poverty summit so we should not judge the First Minister on one speech but, having said that, we need some clear markers. He is not starting with a blank sheet of paper. He does not need to magic up grand visions. We know the problems, we know many of the solutions and we know what needs to be done.
"We do not need to hear radical ideas but a simple commitment to introducing and resourcing practical measures to help people living in our poorest communities navigate the system and more easily access support, advice and assistance."
The Programme for Government will reportedly include plans to pilot a four-day working week within parts of the public sector.
Meghan Gallacher, deputy leader of the Scottish Tories, accused the First Minister of a "dereliction of duty" after he led thousands of independence supporters in a rally from Edinburgh Castle to Holyrood on Saturday.
She said: "Humza Yousaf must use his first Programme for Government to focus on Scotland's real priorities, rather than his nationalist obsession. Sadly, Humza Yousaf showed at the weekend in his address to an independence rally that pushing for another divisive referendum remains his top priority. That is a dereliction of duty from Humza Yousaf given people's struggles with the global cost-of-living crisis, the fact that one in seven Scots are on a NHS waiting list, and our economy is lagging behind the rest of the United Kingdom.
"In typical SNP fashion, their independence obsession means many promises made in last year's Programme for Government have not been achieved. From education, to health and housing, the SNP-Green Government are letting down the people of Scotland on their real priorities."
She added that the "worst policies" of last year's Programme for Government would have been introduced if the Scottish Tories had not campaigned against them, including the deposit return scheme, highly protected marine areas and a national care service.
"If it hadn't been for the pressure applied by the Scottish Conservatives, many of the worst policies outlined this time last year would now be in place or staring us in the face," Ms Gallacher said. "Humza Yousaf is leading an out-of-touch and arrogant Government who are out of ideas. His debut Programme for Government must be outward looking on Scotland's real priorities rather than continuing to look inward on the nationalist priorities, which has typified his time in Bute House so far."
Dame Jackie Baillie, Scottish Labour's deputy leader, said the NHS must be front and centre. She said: "For too long Scotland has been failed by the SNP's zombie Government, which has stood idly by while Scots struggle with an NHS in chaos and a spiralling cost-of-living crisis.
"This is Humza Yousaf's first Programme for Government and it is his last chance to save the remaining shreds of his reputation. This cannot be another exercise in spin and deflection – real action to fix the crisis in our NHS and support people struggling with the cost-of-living crisis must be front and centre.
"This is not as good as it gets. Scotland desperately needs a fresh start and a government with ambition for our country, and Scottish Labour is ready deliver that."
Pamela Nash, chief executive of pro-UK campaign group Scotland in Union, said: "It's imperative the Scottish Government makes clear that it will spend the year focusing solely on what really matters to people. That means uninterrupted focus on our NHS, education and supporting people through the cost-of-living crisis. These areas have never needed the undivided attention of government so desperately.
"The majority of people simply do not want to see a First Minister stand up and spend his time talking about independence or another divisive referendum. That means no more government-funded papers on separation, no save-the-dates for fanciful referendums, and an end to the typical grievance agenda we see from this SNP-Green coalition."
Mr Yousaf said: "The challenges we face – including the cost of living crisis, the impacts of the UK Government's hard Brexit, and pandemic recovery – are significant, but we have strong foundations that we can build upon, to grasp opportunities and deliver real change.
"During these challenging times, the people of Scotland need a government that is on their side. In the coming days we will outline our measures to support businesses and communities to unleash potential and promote entrepreneurship – helping provide well-paid jobs right across Scotland, and boosting national and local economies.
"Our focus on boosting economic growth will enable us to invest more in anti-poverty measures and support our vital public services, protecting the most vulnerable in society and raising the standard of living for everyone."
Comments
 0 comments
Want to join the conversation? Please or to comment on this article.