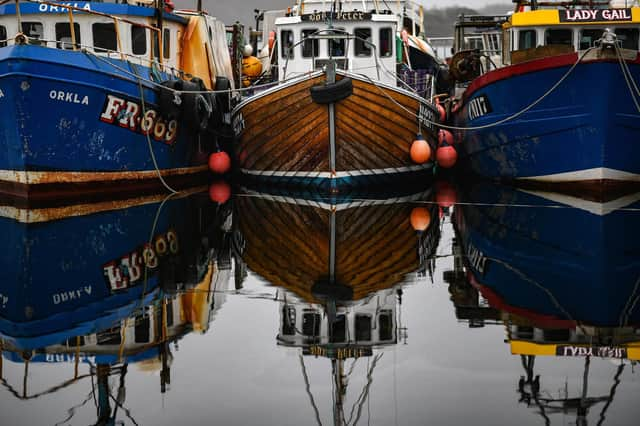 Fishing boats are seen tied up at Tarbert Harbor in Tarbert, Scotland. Picture: Jeff J Mitchell/Getty Images
But I am pleased we in the UK Government have confirmed £23 million in additional support, on top of the operational support we have been providing day-to-day since before the end of the transition period.
These temporary issues were complex and ranged from computer glitches to EU officials obsessing over what colour of ink was used on forms.
Whilst we engaged extensively with the sector to help them prepare for the end of the transition period and provided £200m to the Scottish Government so they could minimise disruption, it is the UK Government who has acted quickly to solve these issues.
I have been in frequent touch with senior figures from the catching and processing sectors and our focus has been on keeping the system flowing.
One example of a rapid fix was monkfish tails – one of many premium Scottish seafood products customers on the continent happily pay extra for thanks to their outstanding quality.
The system accepted monkfish fillets, but would not recognise 'monkfish tails'. Once alerted, DEFRA officials ensured the computers generated the correct coding.
Much seafood moves through the hub operated by logistics experts DFDS at Larkhall. Additional resources, provided by UK Government, have been embedded with seafood firms to help guide them through new processes.
And now we are providing a new £23m fund targeted at fishing export businesses, which have faced a direct loss as a result of disruption in addition to further hands-on back-up.
This week I will chair the latest meeting of the Scottish Seafood Exporters Working Group, which brings together UK Fisheries Minister Victoria Prentis and the Scottish Seafood Association and the Scottish Fisherman's Association, representing those who haul in the sea's bounty and those who prepare it for customers.
Despite recent – but improving – problems, we are an independent coastal state and trading nation, able to chart our own course.
We continue to work with the industry to maximise this new era and are determined to speed seafood from port to plate.
- David Duguid is the UK Government Minister for Scotland.