How Donald Trump was asking a foreign bank for money as early as 2008
The scintillating reporting by the New York Times into Donald Trump's tax returns presents an uninterrupted arc showing the ebb and flow of the US president's personal fortunes over the span of two decades, and raises vital questions about when he turned to external sources for funding.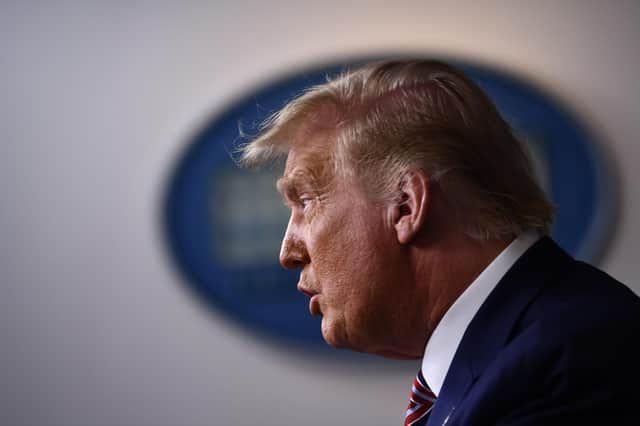 Donald Trump turned to a Scottish bank for funding as he planned the Trump Organisation's international expansion. Picture:Brendan Smialowski/AFP/Getty
In its latest report, the paper has devoted considerable time and effort to exploring a crucial timeframe in Mr Trump's life - the late 2000s thru early 2010s. It specifies how Mr Trump's primary source of income - fees from 'The Apprentice' and various licensing deals - went into a steep decline starting in 2011, falling from £39m to less than £3m by 2018. It adds: "Which is where those unsubstantiated theories of secret payments from Russia or the mob come in."
The New York Times goes on to point out that Mr Trump began pulling money out of other places, which indicated an "immediate need" for capital, such as his 2012 decision to borrow £77m against his equity in Trump Tower in Manhattan.
Which is where we need to hit the pause button, because there is more to the story of Mr Trump's financing than the tax returns report shows.
Yes, questions have been asked about how Mr Trump financed his developments from 2011 onwards. But here in Scotland, a home from home for the Trump Organisation, those questions date back even further, and the answers reveal that the tax returns - revelatory though they may be - are but just one thread in the complex tapestry that is Mr Trump's finances.
It remains little known in the US, but as early as October 2008 – a time when Mr Trump's revenues from The Apprentice and licensing deals were on the rise, and his firms were reporting record profits, according to the New York Times – he was trying to secure financing from the Bank of Scotland, and for surprising trivial amounts - trivial, at least, for a common or garden billionaire.
When the Trump Organisation began its international expansion, it turned to Scotland, planning its inaugural overseas hotel for St Andrews, the Fife coastal town famous as the home of golf.
Mr Trump settled upon Hamilton Hall, a grand 19th century pile overlooking the 18th green of the world-renowned Old Course. At first, he considered entering into an agreement with David, Richard, and Bernie Wassermann, a family of property developers from New England, who envisioned the building as a bolthole for well-heeled golf aficionados.
Under the terms of a confidential March 2007 venture agreement, Mr Trump would licence the use of his name to the joint venture for a nominal sum of £1, in return for sales, marketing and management fees. Mr Trump, the document stated, would not be required to make any capital contribution.
But things changed quickly. The Wassermans were struggling to raise the millions of pounds in initial reservation fees demanded by their lender, the Bank of Scotland. In April, Mr Trump held a meeting in Trump Tower with the Wassermans and two of the bank's executives, Charles Wighton and Donald Kerr.
The meeting, according to a deposition given by Mr Wighton as part of a court case between the bank and the Wassermans, consisted of an "open discussion," with Mr Trump enquiring as to whether there might be potential "for a transaction to be worked in with his involvement."
Over the next year or so, Mr Wighton said he held several telephone conversations with Mr Trump. "They were chiefly one way in terms of Trump saying, you know, for him to get involved in the transaction, he needed the bank's support to do so," he recalled.
By October 2008, Mr Trump made his move, looking to take the property off the Wassemanns' hands. The caveat? He asked the Bank of Scotland for money.
In a letter to Mr Wighton, he made clear his intention to pay £23m for Hamilton Hall, but requested that the bank take back the purchase price in the form of a 15 year mortgage for £23m, with the loan incurring no interest for the first two years.
After that, he proposed the interest rate be set at five per cent for five years, rising a further percentage point for the duration of the term. He also asked the bank to provide him with a construction loan for £15m, attracting identical rates of interest and terms.
The second last paragraph of his letter contained one final sweetener. "We would be honoured to use the Bank of Scotland as our primary bank for all of our United Kingdom enterprises, in particular, the Aberdeen development," it stated.
Given the Trump Organisation has repeatedly said it has self-financed all its developments in Scotland, that offer seemed incongruous. Some 12 years on, it still does.
In any event, the bank proved resistant. Mr Wighton wrote in private to his colleagues, Glenn Alexander, an associate director, and Bill Campbell, from the bank's risk management division, saying he felt the deal was "too risky."
The Trump Organisation was unbowed. In August 2009, it proposed not one purchase price for Hamilton Hall, but two. The first, for £10m, came with strings attached; namely, that a recently incorporated Trump firm would, in turn, receive a £9m loan from Bank of Scotland, repayable over a decade at an interest rate a percentage point above LIBOR.
The second offer, a straight cash deal, was for just £4m, and insisted that Mr Trump's people should gain access to Hamilton Hall 14 days after the conclusion of missives.
Neither bid found favour with the bank, and Hamilton Hall was eventually sold for £11m to Herb Kohler, the US plumbing magnate.
It was a failed deal which thwarted Mr Trump's attempts to export his hospitality brand overseas. But perhaps more importantly, it showed that long before his Apprentice money began to wane, Mr Trump had turned to at least one foreign bank in search of funding.
A message from the Editor:
Thank you for reading this story on our website. While I have your attention, I also have an important request to make of you.
The dramatic events of 2020 are having a major impact on many of our advertisers - and consequently the revenue we receive. We are now more reliant than ever on you taking out a digital subscription to support our journalism.
By supporting us, we are able to support you in providing trusted, fact-checked content for this website.
Joy Yates
Editorial Director
Want to join the conversation? Please or to comment on this article.