High-profile Tory MPs at conference to restore party's grassroots democracy
Several high-profile, Boris Johnson-backing Tory MPs will be among the attendees at a conference today pledging to restore democracy to the Conservative grassroots.
The Conservative Democratic Organisation conference in Bournemouth is the first such event for the campaigning group, which was set up in the aftermath of Mr Johnson's removal from office and amid anger at the installation of Rishi Sunak as Prime Minister without membership approval.
The group is backed by Tory peer and donor Lord Cruddas and organised by Brexiteer David Campbell Bannerman, with former cabinet ministers Nadine Dorries, Priti Patel and Jacob Rees-Mogg all expected to be among the star turns.
Ms Patel, who is set to deliver an address at the conference, appeared to hit out at the current Prime Minister ahead of the gathering.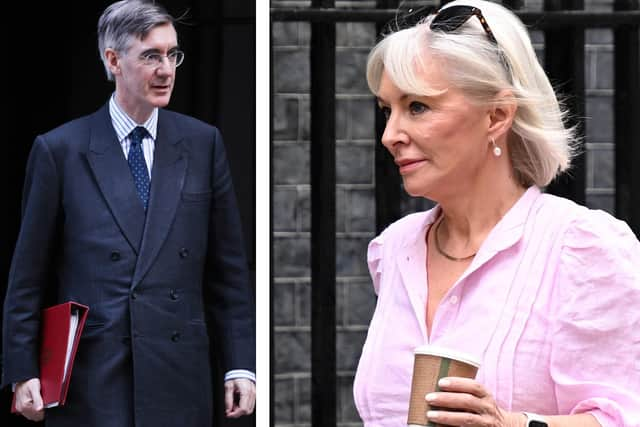 She told the i newspaper that the idea of giving Tory members a say was "very topical at the moment", after the party had lost "over 1000 councillors in the last week - none of them have been reached out to, or have heard a mea culpa apology for the party".
"Conservative Party aside, the party in its current form, the parliamentary party, seems to want to manage status quo and manage decline." The former home secretary added that "if we carry on with managed decline there won't be a future for conservative values and beliefs".
The organisation has repeatedly insisted it is not focused on bringing back Mr Johnson, but speakers at the conference do include several of his most prominent backers.
The gathering, which includes a gala dinner, is described as being for "like-minded patriots who... want to save our party and our country".
Senior Tory MP Tobias Ellwood, who represents Bournemouth East, hit out at his party colleagues for stoking division.
The Defence Committee chairman wrote in The Times: "A drag anchor of a right-wing caucus is in our ranks, and it has already written off any prospects of victory in 2024. As statecraft finally returns to No 10, guiding us into far calmer waters, less-than-subtle plots are afoot to shift our party to the right during the blame game that invariably follows electoral defeat."
He criticised an excessive focus on tax cuts, "Europebashing" and culture wars, warning: "This is a recipe for disaster, as disloyal as it is reckless. It fails to recognise the fighting chance we have of winning."