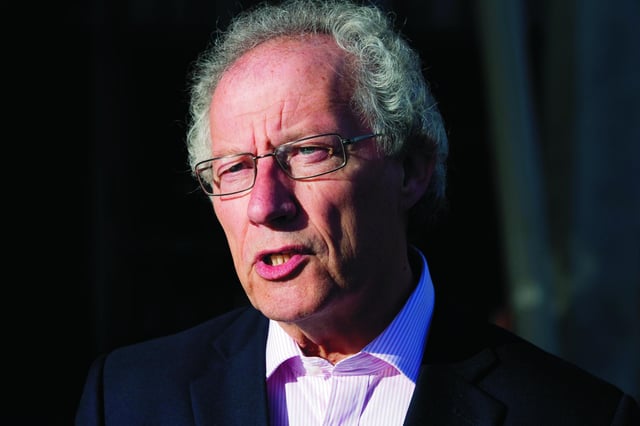 Former First Minister Henry McLeish wants a change of culture and a new voting system
And he also wants to see the parliament have stronger powers in relation to the government and a new voting system to stop single-party rule.
Mr McLeish, who led a Labour-Lib Dem coalition at Holyrood in 2000-01, said the Salmond saga had been damaging to both the parliament and the Scottish Government, but he did not expect Nicola Sturgeon to resign ahead of the election.
Speaking on the Sunday Show on BBC Radio Scotland, he said: "The Conservatives are asking again, again and again for Nicola Sturgeon to step down but this is going to end up in the court of public opinion in the election, so I think that's how it will conclude.
"But on the other hand it's done enormous damage to the credibility and integrity of both the parliament and the government.
"The parliament is still too culturally disposed towards partisanship - there's far too much hating still going on and we see a great deal of tribalism."
He suggested an independent committee of inquiry might help tackle the issue over time.
"But secondly I think what we need to do is strengthen the powers of the parliament so they don't have to crawl to government to have disclosure of papers, to get proper information at the proper time - that's a real consideration."
And he called for a new electoral system.
"In 1998 when did the Scotland Act we didn't envisage that any one party would have a majority - and basically since 2007 they [the SNP] have with the help of the Greens.
"What I would like to see in the future is we look at this primitive system of first past the post for the constituency element and get rid of that and we have the full parliament elected by a new voting system on proportional representation.
"That I think will avoid this problem of one party being there too long.
"Longevity can be a problem, it can be challenging. We have a one-party nation, a one-party parliament, a one-party government and increasingly a one-person party.
"That's not good or healthy for democracy. But to be fair the opposition over the last 14 years has been weak and ineffective – so I think a combination of stronger political parties, some idea of being more European and looking for coalitions, looking for collaboration, that would be good.
"But immediately we must look at the parliament and remind the government it's accountable to the parliament not the other way around. The SNP are tired, they look exhausted in many ways but they have also got to realise that strengthening democracy means strengthening the parliament."
He criticised the Tories for their approach
"I think the Conservative party have helped the First Minister because they have politicised it – they called for her resignation before she appeared before the committee.
"If there are really damning indictments in either of the reports she may consider her position, but we are fortunate enough to have an election just a few weeks away – for the first time an election will coincide with a major stramash in government and the public will have a chance to decide."
A message from the Editor:
Thank you for reading this article. We're more reliant on your support than ever as the shift in consumer habits brought about by Coronavirus impacts our advertisers.
If you haven't already, please consider supporting our trusted, fact-checked journalism by taking out a digital subscription.