Covid Scotland: Health secretary warns of 'squeezed' Pfizer vaccine supply
Health secretary Humza Yousaf has written to the UK Government to ask them to take action over "squeezed" supply of the Pfizer vaccine.
In a letter to his UK counterpart Matt Hancock, Mr Yousaf asked what more could be done to accelerate the supply of the Pfizer vaccine in coming weeks.
Writing ahead of a four-nation health minister meeting on Thursday, Mr Yousaf stressed the need to bring forward the supply of Pfizer, saying the vaccination programme in Scotland could maintain or increase its pace if there were greater supplies.
The Pfizer vaccine is due to reduce in supply in coming weeks before picking up again in July.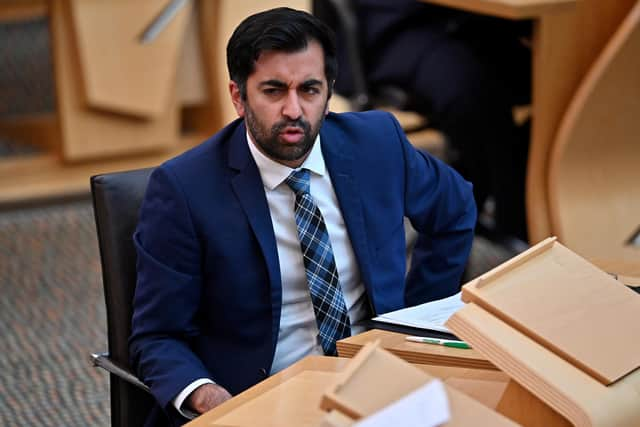 Mr Yousaf said the decision to use the AstraZeneca vaccine for only those aged over 40 was hampering the race to vaccinate the adult population as soon as possible as it was causing pressure on the supply of other vaccines.
But Scottish Labour health spokeswoman Jackie Baillie branded the letter "expectation management" from a government that she said was falling behind on its vaccination programme.
Scotland is believed to have more than 900,000 unused vaccines in stock – proportionately many times higher than Wales, which is set to complete its vaccination programme shortly.
The Pfizer and Moderna vaccines are both approved and are available for those aged under 40 in the UK. However, there are very limited supplies of the Moderna jag.
Mr Yousaf said the supply of the vaccine would be "tight". He said the four nations "must do everything in our power" to accelerate the vaccine campaign, warning the shortage in supply would mean the programme would not be able to be rolled out as fast as he would like.
He wrote: "In Scotland, similar to our four-nations counterparts, we are working hard towards the end of July target for offering first doses to all those aged 18 and over.
"This has become even more important as we implement the adjustments to the dose schedule set out by JCVI and deploying additional accessible routes to reach communities given the increase in prevalence of the Delta variant.
"I am very clear that this is a race and we must therefore do absolutely everything in our power to accelerate our efforts to vaccinate as many people as possible.
"I appreciate we are all doing what we can in this regard, but I am conscious that the recent changes by JCVI on the role of AstraZeneca have placed increased pressure on our supply of Pfizer, in particular.
"The latest forecast on supply would indicate that Pfizer will be particularly tight over the next few weeks and as a consequence the programme won't be able to accelerate as much as I would wish."
He added: "I know that the Vaccines Taskforce and colleagues in BEIS are working incredibly hard to maximise volumes of all supply including Pfizer.
"Notwithstanding this, I would be grateful to discuss what more could be done to further increase the available supply in the coming weeks to support efforts to deliver the programme at pace. I would, of course, be happy to discuss this at our next four-nations ministerial call if that would be useful."
Earlier this week, the Welsh government announced that all adults there would have been offered their first dose of vaccination by Monday – six weeks ahead of schedule.
Scottish Labour's Ms Baillie said: "Humza Yousaf has raised very legitimate concerns over the supply of the vaccine, but one cannot help thinking that it is another example of expectation management from a Scottish Government that is falling behind on its vaccination programme.
"At the start of the week there were 900,000 unused vaccine doses in Scotland, and Scotland remains far behind Wales in terms of first doses. The sad fact is that Scotland is leading the pack on Covid prevalence, but is slipping far behind on vaccinations. This should be the minister's focus, not making excuses."
Scottish Conservative shadow health secretary Annie Wells said the Scottish Government needed to do "everything to guarantee the target" of giving every adult a first dose by the end of July.
She said: "The vaccination rollout has been an incredible success story across Scotland and the United Kingdom. We know that getting jabs in people's arms is the best way to continue to ease restrictions on individuals and businesses.
"As we have seen with the Delta variant, we must ensure that the rollout is ramped up as quickly as possible in the coming weeks to give people the best chance of protection against the virus."
She added: "Across the United Kingdom, everyone must work closely to guarantee every possible dose is delivered. If there are going to be supply issues relating to Pfizer, then these must be clarified as soon as possible.
"As we strive to return to normality, everything must be done to guarantee the target to give every adult at least a first dose by the end of July in Scotland does not have to be pushed back."
A message from the Editor:
Thank you for reading this article. We're more reliant on your support than ever as the shift in consumer habits brought about by Coronavirus impacts our advertisers.
If you haven't already, please consider supporting our trusted, fact-checked journalism by taking out a digital subscription.
Comments
 0 comments
Want to join the conversation? Please or to comment on this article.