Health secretary to do 'everything possible' to avoid 'very disruptive' strike action by junior doctors
Strike action by junior doctors will be "very disruptive" and is in "no-one's interest", the health secretary has said.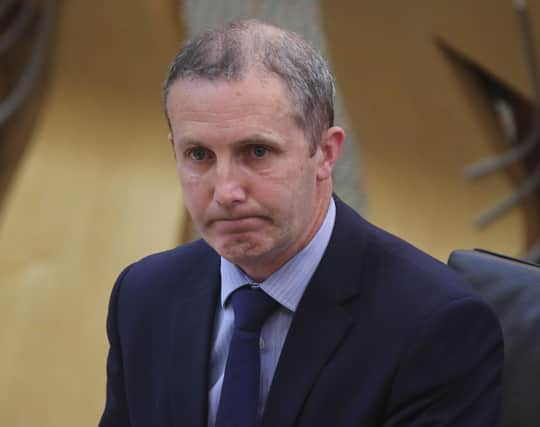 Michael Matheson told MSPs he would do "everything I can" to try to avoid strikes by doctors within the health service.
This follows an overwhelming vote in favour of industrial action by British Medical Association Scotland doctors with 97 per cent of those who took part in the ballot backing the walkout.
Clinicians have demanded a pay increase of 35 per cent, a request labelled "simply unaffordable" by the health secretary.
Jackie Baillie, Scottish Labour's health spokesperson, said the raft of spending announcements following Humza Yousaf's leadership contest victory demonstrated that where there is the will, there is a way for government to find the money.
She said: "The outcome of the ballot was overwhelming, indicating the strength of feeling from our hard-working junior doctors.
"Pay has been eroded by a staggering 23.5 per cent in real terms since 2008 for newly qualified doctors, and a recent BMA survey showed that 44 per cent of junior doctors are actively thinking about leaving the profession and going to New Zealand or indeed Australia.
"There are even junior doctors relying on universal credit to cover child care and energy bills."
Mr Matheson said direct negotiations with BMA Scotland were already underway, with the next scheduled meeting set for May 11.
He refused to be drawn on any details, stating negotiations were being "held in confidence".
The health secretary said: "I have gone into this negotiation process in a very open and genuine way with the junior doctors to seek to try and address what are both short, medium and long term issues that I believe need to be addressed.
"I've already asked health boards to put contingency plans in place should we be in a situation where unfortunately industrial action does take place because it will be very disruptive.
"The nature of what those contingency plans will be is dependant upon any derogations which are agreed with the junior doctors committee when they are, if they are taking industrial action.
"I want to make sure that we both have the plans in place and in the time that's available to us, [do] everything I can possible to try and avert the risk of industrial action in NHS Scotland by junior doctors."
Want to hear more from The Scotsman's politics team? Check out the latest episode of our political podcast, The Steamie.
Comments
 0 comments
Want to join the conversation? Please or to comment on this article.